Covid 19 Top 5 Moving Tips for Shifting in July Comfortably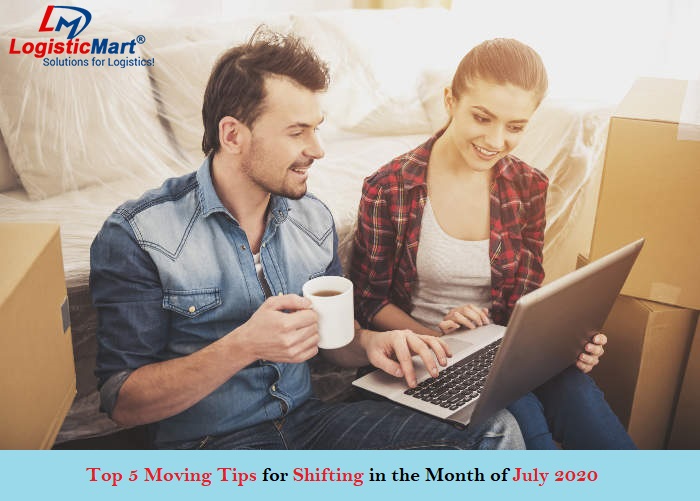 Contents
Summary: The pandemic of CoronaVirus has inculcated deep fear in the minds of different people. Now, various people are undergoing the biggest change in their lives. They want to live their lives the same way as they used to live just before the spread of Coronavirus. Remember varied countries have been unlocked again but the cases of COVID-19 are rapidly increasing implying that people have to safeguard themselves from this pandemic along with rooting out the deep inflicted fears in their minds.
In the past few months, the living style of the folks all over the world has drastically transformed. The reason for this change is very well known to all of us. The pandemic of COVID-19 has brought an upheaval in the present world and all are learning their lives again amidst the risk of the disease of Coronavirus. Before a few months, most of the countries were locked down and people were enclosed and busy living their lives confined in the four walls of their home. As time passes, different countries of the world have been unlocked again and different people are learning again to live their lives amidst this deadly disease. Now, folks are living behind their fears and hence, the mobility of people has been increased as the countries have been again unlocked.
In India also, as recently the government has announced the unlock of the entire country except for the containment zones, the mobility among people will fuel and the business of people will start running once again. It is the right time that now packers and movers in India should get ready to handle this drastic change and ensure the safety of the lives of varied people across India. After analyzing the entire present scenario, we are listing some key tips that will help the movers and packers once again boom their business along with ensuring the safety of the folks. So, let's open up a new chapter of the discussion by mentioning some key tips underneath:
Understand that Nothing Can Stop Your Lives: We are living our life amidst fear and find ourselves trapped in an unwanted situation. We will go shopping; we will live our lives perfectly if we have a sound belief that nothing can stop us from accomplishing the dreams of our lives. We will relocate to new places also but we should take adequate safety measures. Remember, we cannot give our destiny a chance to grab the only lives that God has given us.
Remember the Three Vital Advice When it Comes to Moving From One Place to the Other:
Take the pledge to wear a face mask and Hand gloves so that our hands do not touch any unwanted surface.
Always remember to Wash your Hands again and again with a bar of soap or you can also use an alcohol based sanitizer to keep yourself safe. The most important precaution that you are required to take is that you should not touch any materials that have the capacity to catch fire. For example, stay away from gas and all those objects that are inflammable as alcohol catches fire easily and your entire body can catch fire very easily.
Choose Packers and Movers Very Carefully: Now, choosing packers and movers is not as easy as it used to be once. Yes, there are a plethora of movers that can help you out but you have to stay careful when it comes to choosing moving organizations for home shifting in India. The major points that you must check while hiring moving organization professionals are as follows:
First of all, ask from your moving organization what measures they have adopted to keep their moving organizations' professionals safe. If they are following the strategy of social distancing or not.
Ask them to send everything about their policies on your email Id or whatsApp. Also, ask the moving organization that how many persons will be there in the moving crew when these guys will come at your home to help in shifting your home.
Ask the movers to send free of cost price quotations over email Id so that you can have an idea of their price strategy along with their services.
Always rely on trusted moving organizations that have an unbeatable reputation and brand name in the market.
Rely on Online Portals: In such a doubtful scenario, you can easily count on the top online portals present across our country. The top online portals like LogisticMart and MoveMyCar.in has understood the entire scenario very fast and has recommended all their clients to take strict measures for the safety of their customers. Now, apart from getting the assistance of verified packers and movers at affordable cost, you can also assure the safety from the deadly disease of Covid-19.
Choose Secured Payment Options: Do not pay by cash mode as it may have a chance to make you inflicted from Coronavirus. Stay safe and pay virtually by using a unified payment interface. You can use the virtual mode of payment, or can also make use of internet banking, or unified payment interface options as per your suitablility.
Keep Your Family Members Safe: Do not touch the surfaces unnecessary. Keep your hands clean. Keep on washing your apparel, and other washable items such as utensils again and again. Remember, no dust must be seen in your home, and when the moving crew arises your entire home must be neat and clean.
The End Notes:
With the spread of the deadly disease of Coronavirus, your lives will not get stopped. All, you need to generate positive vibes in yourself and take proper safety measures to stop the spread of this disease further. Always remember a slight mistake if done on your part will be borne by the entire society and you will be infecting a large chain of people along with yourself. The best way is to stay safe and let others live comfortably by choosing your movers quite carefully. In the changing environment, we wish you all the best for your coming relocation adventures. Show that you have a zest to live comfortably and no one can stop your enthusiasm. Stay safe and Stay Happy forever!
---
Leave Comments
|
Like
(56)