Posted Date: 09-07-2019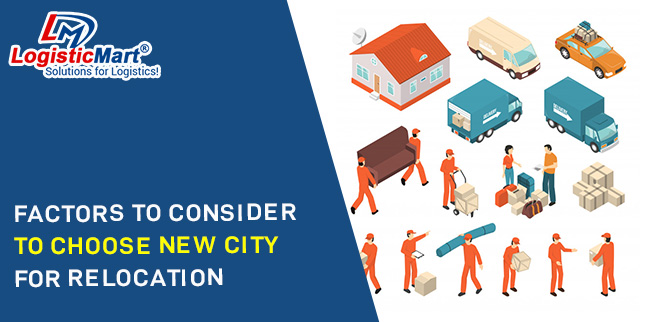 Relocation has nowadays have become an inevitable truth that can improve the quality of life of the individuals. We all love this change and want to make the best out of this relocation opportunity. Everyone makes the best arrangements for the moving endeavors such as selecting the best packers and movers, arranging the best transportation, and for fulfilling other allied requirements. But do we care enough to select the city of move with the utmost care and concern? In India, where a large number of the population migrates to another city in want of a better lifestyle, miss the boat when it comes to selecting an apt place for shifting.
There are several crucial factors that can make or mar your life post-relocation in a city. Therefore, choosing a new place carefully for moving with the help of Packers and Movers near you is quite important. So, we are listing some general factors that will definitely help everyone in deciding their next city of abode in 2019. So, let's have a sneak peek to these factors one by one:
1. Check out the Abundance of Employment Opportunities: After relocation, obviously, you will be required to fulfill financial commitments. If you are single you need to support yourself. If you have entered the nuptial bond, you will have to take care of the financial needs of your family. So, choosing a city that tops the list of economic prosperity is something will help you definitely. Also, consider your level of education and career requirements, and then give a nod to your relocation plans. 
For instance: Bangalore, Pune, Mumbai, Delhi, Gurgaon, Jaipur is some of the cities where you will never find a dearth of economic opportunities. Therefore, People love to relocate to these cities with the help of the Best Packers and Movers.
2. Sound Infrastructure and transportation connectivity: The second factor that can influence your quality of life post-relocation is infrastructure and transportation connectivity. Choose a city that has a sound infrastructure, basic amenities like water and electricity, and proper transportation connectivity.  Cities having metro connectivity are the most popular like Delhi, Gurgaon, Mumbai; Kolkata is the most popular as the top relocation destination.
3. Consider The Cost of Living: Cost of living is an important parameter for selecting an upcoming city for shifting. Higher the cost of living in a particular area, lower will be the charm of people in shifting to that city. Cost of living is an important parameter to consider at the time choosing the next city for relocation. So always choose Home Relocation Service Providers in the areas where the cost of living is moderate and affordable.
4. Safety of Your Family: Leaving a family behind when someone goes to work is not an easy task. Every man wants to do the best for his family, let it be financial expenses or otherwise. Safety of the family is the topmost concern for the individuals. Some areas are considered quite safe for women; therefore, such areas are at the top list of married persons, and single females. Therefore, when deciding the city of move, your foremost preference must be shift to those cities where women find themselves safe.
5. Smooth Weather Conditions: Smooth weather conditions are also another important factor that lures the heart of various individuals to relocate at a particular place. At extreme heated places and at extreme cold conditions the pace of relocation is quite slow as compared to moderate weather areas. 
6. Availability of Sound education system: If you are planning to relocate with family availability of good schools and colleges also play an important role in deciding the place of relocation. So, pay heed to the education system also while considering the options for relocation. Otherwise, you will have to compromise the entire future of your kids.
Some Cities like Delhi, Mumbai, Bangalore, Pune, Gurgaon, Delhi, Hyderabad, Chennai, and Jaipur have almost all these factors in common. Therefore, one can see a large influx of people in all these places.  For example, if a person has plans to shift to Bangalore, he or she will not hesitate to take the aid of packers and movers Bangalore.
All in all, choosing a new city for relocation is not a walk in the park. It is an important decision that can affect the quality of your living post-relocation. So, always give priority to shift with the help of Top Packers and Movers. Obviously, such important decisions cannot be revoked easily. So, it is important to take out some precious moments from your hectic schedule and make a depth analysis of the city where you wish to relocate. We wish you all the best for your relocation endeavors in 2019.