Hassle Free Process of Transporting Car by Train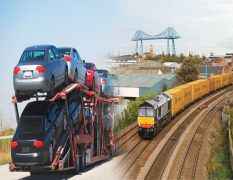 You have taken a decision to shift your valuable car to a new location. Are you thinking about driving all the way to the location, which is far from the current one? Or, are you planning to get your car transported with the help of professional and reliable car carrier companies? Well, there are so many people who you would come across relocating from one place to another due to a wide array of reasons. Some of them choose to drive due to the fact that they have been driving for a long time and don't want to get rid of it while others take a wise decision to hire the services of reputable and experienced car transportation companies.
Some take pleasure in the luxury of having a car while others cannot afford it due to its high price. As a result, they go for a bike for the purpose of executing daily activities. It's true that you are one of those who are having a weakness for getting behind the wheel of your car and drive, but driving is not always recommended. There are other means as well by which you can reach the location. It is important that when you decide to take the services of the best car carriers to transport your prized possession to the new location in Delhi, you must research about them a little for avoiding any inconvenience.
You would come across many car packers and movers which are available in various parts of the country and have been dealing with car transportation services with professionalism and providing them at the rates which are simply beyond compare. There are many methods adopted by a car carrier company to transport the car. It would be sensible and recommended that you get your precious car transported by train.
Following are the tips to be considered for car relocation by train:
Move Along with Your Car – Anything can happen to your priceless car when a decision is made to avail car transportation services through train. Therefore, you have to make sure that you move along with your car to a new destination in Mumbai.
Car Moving Insurance – It becomes utmost crucial for you that you get your car insured from the insurance company so that you can claim for any damages whether internal or external. Get in touch with the insurance company or car carriers and enquire about the type of insurance which suits you the best like Basic Liability, Declared Value Protection and Customer Transit Protection. Ensure that you go through every type of insurance in a cautious manner so that you can determine later on which type will be suitable for your car.
Hold the Car Transport Company Liable for Damages – You can hold the car carrier companies liable for any type of damages whether internal or external. Also, you can hold them responsible for damages which they did not detect when the car was being loaded onto the train.
---
Leave Comments
|
Like
(27)