Posted Date: 26-09-2022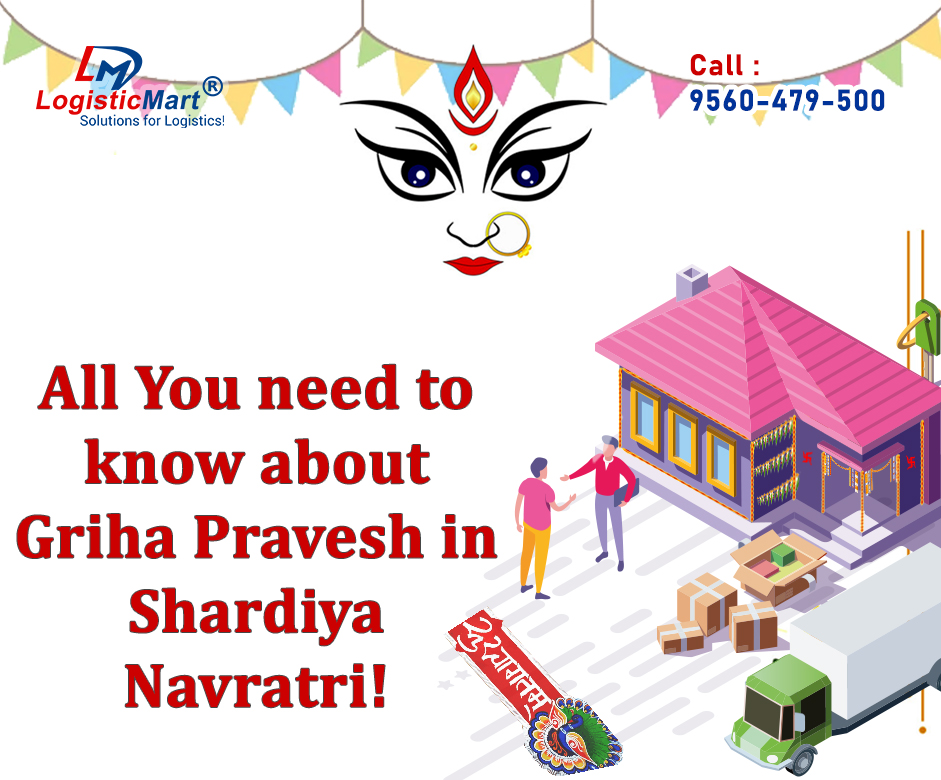 "Sarva Mangala Mangalye Shive Sarvartha Sadhike
Saranye Trayambike Gauri Narayani Namostute"
Whether it is an inauguration or moving into a brand new home, every Indian believes in Shubh Muhurat. They verify the auspicious date and time to start the beautiful chapter of their lives for a smooth start without complications. With that said, the nine-day-long festival—Navratri is one of the most revered Hindu festivals, celebrated with great pomp and devotion—is also the best time to mark new beginnings, like beginning any auspicious work or Griha Pravesh. So, if you are looking for an auspicious time for a housewarming, Griha Pravesh in Navratri 2022 is perfect.
Auspicious Day and Time for Moving Into a New House during Navratri 2022!
Dedicated to Goddess Maa Durga and her nine incarnations, this year Shardiya Navratri will begin on September 26 (Monday) and end on October 5 (Wednesday). Although no dates are available for moving into a new house during September and October, all nine days are auspicious for house shifting in India. Below is the date chart for Navratri 2022:
| | | |
| --- | --- | --- |
| Date & Day | Tithi | Navratri Day |
| Sep 26th, 2022, Monday | Pratipada | Maa Shailputri Puja, Ghatasthapana |
| Sep 27th, 2022, Tuesday  | Dwitiya | Maa Brahmacharini Puja |
| Sep 28th, 2022, Wednesday  | Tritiya | Maa Chandraghanta Puja |
| Sep 29th, 2022, Thursday  | Chaturthi | Maa Kushmanda Puja |
| Sep 30th, 2022, Friday  | Panchami | Maa Skandamata Puja |
| Oct 01st, 2022, Saturday | Shashthi | Maa Katyayani Puja |
| Oct 02nd, 2022, Sunday | Saptami | Maa Kalaratri Puja |
| Oct 03rd, 2022, Monday | Ashtami | Maa Maha Gauri Puja |
| Oct 04th, 2022, Tuesday  | Navami | Maa Siddhidatri Puja, Rama  |
| Oct 05th, 2022, Wednesday  | Dashami | Navratri Parana, Durga Puja, Dussehra |
Important Note: If you performed Kalash Stahapna in your current house, you can't move into your new residence because once a Kalash is established in one place, it can't be removed or moved for the entire nine days. So, consider performing the Kalash Sthapana or Ghatasthapana's procedure in your new home, then you can relocate with reliable local movers and packers. Also, remember that Griha Pravesh could only be performed in a ready-to-move-in home with doors, roofs, and windows in place. 
The best day for moving into a new house during Navratri
Although all nine days of Navratri are sacred and auspicious for house shifting, Maha Ashtami, Maha Navami, and Ram Navami are considered the best for shifting into a new house. Though you can move your belongings before the Griha Pravesh puja or Vastu puja, you can't stay in your new home until the ceremony.
Tips for shifting into a new house during Navratri without priest/pandit
Griha Pravesh is a significant ritual that individuals perform before entering into their new house, so the new beginnings bring happiness, health, and prosperity to their lives. According to the Vastu Shastra, the ceremony is conducted when all five elements of nature align with each other. Although many people perform puja with a priest or pandit, you can do Griha Pravesh on your own during these nine days of festivities since Navratri is one of the greatest times of the year for any auspicious work, keeping these below-listed tips in mind:
Bring turmeric, coconut, jaggery, Akshat, and Kalash when moving to the new residence.

Keep the puja Kalash in the northeast corner of your new house, put Gangajal and mango leaves in it, and draw the sacred symbol of Swastik on it.

The husband and wife should enter the house together. The husband should step on his right leg first, and the wife should keep her left leg first. It's believed that this act brings happiness and prosperity into the house and family.

The floor should be thoroughly mopped up using salt to purify the place before the puja takes place.

The idol of God and Goddess should be placed in the east direction of the house.

Sprinkle Gangaajal and Akshat (turmeric and rice) in every corner of the house

To dispel negative energies, blow Shankh or conch during Griha Pravesh Puja.

Keep jaggery in the kitchen to remove Vastu Dosha.

Organize Durga Saptashati Path, Chandi Path, Maa Durga Yagya, or Ramcharitmanas Path on Griha Pravesh during Navratri for a beginning full of promises.

Don't vacate the new home for at least 40 days of the Griha Pravesh.

Don't forget to donate food and money to needy ones once the puja is done.
Parting Note
We hope you found the article insightful. You will attract positive energies into your home and life if you move into your new house during Navratri and follow these prescripts with heart and mind.
FAQ:
Which day is good for house shifting during Navratri?
Although all nine days are auspicious for house shifting, Maha Ashtami, Maha Navami, and Ram Navami are considered the best days for shifting into a new house.
Can we do Griha Pravesh puja after shifting into a new house?
Griha Pravesh or Vastu puja needs to be done before shifting into the new house. Don't move anything except the cooking gas and stove until the Griha Pravesh puja is done.
How to do griha Pravesh pooja without a priest?
Griha Pravesh's pooja is complex. It includes many customs and practices. You can perform puja vidhi without a priest if you are well aware of those methodologies. It's advisable to speak to a knowledgeable priest to perform the customs in the right manner.
Can we do griha Pravesh pooja during periods?
It entirely depends on one's perception and belief system. However, it is nowhere stated in the four Vedas that a woman's body is impure or she cannot do pujas during menstruation.
What should you not do after griha pravesh puja?
You should not leave your new house locked up overnight after the griha pravesh puja.
How many days should you stay in the new house after the griha pravesh puja?
It's advisable to stay at least three days after completing the griha pravesh puja.
Which things should be done and not done during the griha pravesh in Navratri?
Sprinkle salt everywhere to purify the house, and don't move any furniture or other household goods before the Griha Pravesh Puja, except the gas stove, and boil milk during the puja until it overflows. Make sure the milk spills in the east direction. This ritual symbolizes the abundance of prosperity, ensuring your and your family members' lives are brimming with health, wealth, and happiness.