Posted Date: 29-09-2018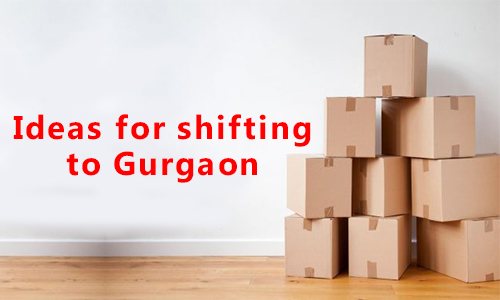 Move to a new location with happy heart and energetic you!
Moving to a new location has mixed emotions and there are many feelings which are associated with the new place as well as the old place. In between all this, there is something inevitable which is packing all the stuff and moving to a new place. When you are moving, packing the stuff is one of the important steps, as in case there is a slightest mistake it can cost you financially and emotionally. To help you in shifting the best option to be considered is to hire one of the best movers and packers in Gurgaon or in any other city across India. There are many factors, which need to be considered, so that you have the best service provider. Apart from that, when you consider exploring about your new location, then also there are chances that the moving becomes fun and easy for you.
Gurgaon can be a dream destination for you, let us know it better!
The Millennium city of Gurgaon is a satellite city of Delhi NCR and it is known to attract people looking for lucrative jobs in some of the renowned companies from the world over. There are many opportunities for the people who are looking for a better job options here in Gurgaon.
Some might be in need of a better learning place for their children or there can be some personal reasons as well. Be it any reason, Gurgaon can be welcoming for you provided you move in a hassle free manner.
Know more about Gurgaon, and its climatic conditions before moving…
Gurgaon is located in the southernmost part of the state of Haryana, and its boundaries lie adjacent to the city of Delhi. The city has monsoon-influenced climate, hence when you are moving to the city, you can predict the weather or the climatic conditions in advance. This prediction based on the information online and the monsoon conditions might be helpful for you in preparing yourself better while you move to your new home in Gurgaon. With the help of this information, you can plan your move in the months, when the weather is not extreme, however at times, you have to move at the specific time. during the times when you have no choice, you can remain updated with the weather conditions and prepare yourself well in time.
Well, apart from the climate, there are certain other things, which need your consideration so that the relocation to this city can be amazing and effortless for you.
Know about bars and restaurants
In order to enjoy the city to the fullest, you need some perfect places to spend your weekends. And in Gurgaon, there can be no better option but the bars and the restaurants. You can prepare a list of these websites by checking out some of the famous food blogging platforms. Then you can be sure of finding the right options for enthralled weekends. Some of the famous areas where you can get some delicious food and enjoy the nightlife in Gurgaon are surely sector 29, DLF cyber city and restaurants at MG road. 
Know about the nearby places to visit
Apart from food and drinks, Gurgaon has some of the amazing places, which can be explored. To utilize your time better, you can list down all the places of interest and prepare your own itinerary for the day. 
Along with these, you can also prepare a list of the places nearby and plan road trips or small vacations to these places once you get settled to the new city. However, settling with all your stuff to the new place is a bit time consuming. Nonetheless, when you have professionals for your help, you would not even realize how effortlessly you will shift and get settled to the new place.
Some of the places to visit in or near Gurgaon, and Delhi NCR include, Kingdom of Dreams, Sultanpur bird Sanctuary, Fun n Food Village, Hauz Khas Village etc.
Make your moving smoother with professional help…
Hiring the movers and packers can be an added benefit for you when you are shifting. You can choose the best House shifting services in Gurgaon after doing some considerable amount of research. And one of the easiest options could be finding the solution through a platform like LogisticMart. Such a platform has only credible and verified service providers, and hence it is easy to find the desired services. Also, this saves your time, which is spent on finding the desired service provider in a new city. Along with that, you can get to know charges of movers and packers that will help you save your money and choose the most affordable one.   
A city which will welcome you with both its arms open!
Well, Gurgaon has people from all across the nation. Hence, it becomes easier for you to get acclimatized and comfortable at this place. Along with that, you get to interact with the people from different regions and hence language is no more a barrier for you in this city, unlike any other city. You can simply get to have a good friend circle and have a pleasant time/stay in this new city.