Get Optimum Satisfaction While Choosing the Home Shifting Services in Gurgaon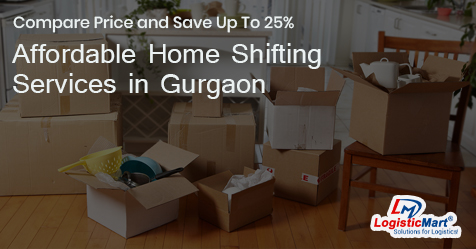 Planning for home shifting in Gurgaon? Something which might be worrying you the most can surely be the time-consuming process of hiring the most suitable home shifting service providers. However, LogisticMart is surely going to be of great help for you, as this is the platform that provides you with a trustworthy list of movers and packers that too absolutely free.
The major benefit of hiring professional and the best movers and packers in Gurgaon from our platform can be that they can help you make home or room shifting smooth and easier. You can move to a new place in the least stressful manner, once you have the right assistance.
These Factors Surely Make a Difference in Home Shifting Services Charges in Gurgaon
Well, there are n numbers of factors which make a huge difference in the overall rates which you have to pay which you relocate. These might be:
Transportation cost based on distance
Speed of the moving services
Type and quality of packaging material used
Insurance cost
Additional charges like labor cost, installation costs, if any, etc.
Depending on these and many more factors, you can pick up the options which suit you. For instance, you can pick up a specific type of delivery service which falls in your budget, or maybe a packaging material that meets your requirement along with coming in your budget.  
Approx. Local Home Shifting Services Charges in Gurgaon
| | | | |
| --- | --- | --- | --- |
| Type of Relocation | 0Km-10Km | 10Km-30km | 30Km-50Km |
| 1BHk Shifting Goods | 4000-7000 | 6000-10000 | 8000-14500 |
| 2BHk Shifting Goods | 5000-9500 | 6000-10000 | 7000-16000 |
| 3BHk Shifting Goods | 6000-11000 | 7500-13000 | 9000-17000 |
| 4BHk Shifting Goods | 7500-12000 | 10000-14000 | 12500-20000 |
Why LogisticMart an ultimate Solution for hiring House Shifting Services in Gurgaon?
A platform with more than a decade's expertise in the field of logistics and having more than 6400 verified service providers, offers you the exact solution as per your need in the least time possible that too at minimum charges is of course your first and the last choice. Along with that, this platform is available on your mobile phones, we help you connect with credible movers and packers. This in turn helps you save your time and money. Additionally, we offer you some special features which include a customized dashboard for customers, affordable priced free quotes and they are exclusive to our platform.        
Getting 4 Free Quotes for Local Household Shifting Services in Gurgaon is Easy Now
You can simply fill in the form with the basic credentials and we will help you with the suitable 4 free quotes of the furniture shifting services in Gurgaon, movers and packers or any logistic company as per your requirement. And based on your choices, affordability, and many more factors, you can choose the one which you think meets all your requirements. You can simply find the credible home shifting solution in a couple of minutes.
How to Reach or Contact Us for House Shifting Services in Gurgaon?
Want to reach us, call us on our toll-free number 1800-102-9655 and get the desired help for relocation. You can simply get in touch with our customer care experts; they will help you with the required free quotes from the trusted household movers. In case, you want to move your vehicle along with the goods, then you can also get the desired services like car carriers in Gurgaon. And once you have these, you can choose the most suitable one.
Top Local Areas Where Our Movers and Packers Provide Service in Gurgaon
You can find us throughout the major local areas in Gurgaon. Our widespread presence makes it easier for you to get the desired services at your chosen location. Some of these local areas are:
Palam Vihar, Sector 26, Sector 13, Sector 5, Sector 12A, Sector 14, Ashok Vihar, Sector 17, Sector 18, Old Delhi Gurgaon Road, New Palam Vihar, Rajiv Nagar, Ashok Vihar, Phase III Extension, M.G. Road, Dundahera, Palam Vihar Extension, Udyog Vihar, Ashok Vihar Phase II, Vigyan Vihar, Sector 22A, Manesar, Sector 56, Dlf City, DLF Phase 3, Sector 23, Sector 9, Gurgaon Industrial Estate, Sikanderpur, Sukhrali, Sector 33, DLF Industrial Area,  Rajiv Nagar, DLF Phase 1, Sector 23A, Basai Road, Civil Lines, Dharam Colony, Atul Kataria Road, Dwarka Mehrauli Gurgaon Road, MG Road, Palam Road, Sector 10A and other areas of Delhi NCR.