Top 7 Tips that Aids You Perfectly when Shifting Alone with Packers and Movers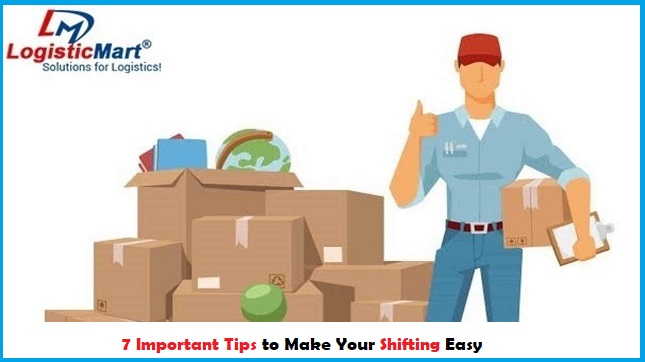 Contents
Summary: Moving alone can be a scary task in the present environment. But as we know some tasks cannot be deferred in any situation and we are left with no alternative but to move to another city. So, let's read this blog post that addresses the key concerns that you face in shifting your home alone in the present uncertain environment. In this blog, we will cover the following points:
Introduction:
Major Reasons That Forces Us to Move Alone in the Present Circumstances
Key Tips That Must Be Followed When Shifting Alone
Introduction:
Shifting home is quite an intimidating task for the folks who are planning to shift in the present environment of uncertainty. As we all know whatever the situation is, humans have a zeal to tackle complicated situations with positivity and enthusiasm. Indian history is replete with diverse examples that show the fighting spirit of Indians. With the outbreak of the Pandemic of COVID-19, home shifting has become quite a complex phenomenon for every person staying on this earth. In India, the mobility of the folks cannot be fully stopped as we Indians are social and gregarious by our very nature. Well, we have crafted this wonderful blog post with a special purpose in mind that how to hit a new place with enthusiasm and positivity in mind when we are moving alone with the aid of packers and movers in India.
Major Reasons that Forces Us to Move Alone in the Present Circumstances:
Why we have to take this home shifting now only in the present circumstances? What are the key reasons that we have to move ahead to a new destination? The following reasons will help you to understand the severity of the current circumstances and how shifting your city can influence your career and life.
For Survival: In the present circumstances, almost every country of the world has been badly hit by the pandemic of Noval Coronavirus. Many people are jobless in the present circumstances and it is quite difficult for them to make themselves survive. Many people have no alternative but to shift to a new city and search for jobs or work in the present circumstances. In such a scenario, they have to move alone to a new city leaving their family behind.
To Reduce their Expenses: Many people have got jobless in the present context since the arrival of the pandemic of COVID-19. For instance, the tourism industry has been badly hit by the presence of COVID-19. Therefore, the people related to the tourism industry find themselves unable to put up with their expenses in the metropolitan cities. Therefore, these folks are moving back to their parental places to keep themselves going on in these toughest situations and live a smooth life.
Key Tips that Can Be Followed when Shifting Alone in a New City:
Keep Yourself Organized: The most important point is you must stay organized at the time of shifting. Pack your bag and baggage and declutter your apartment or flat if you are living alone or with a group of friends. Throw the unwanted stuff.
Choose the best Packers and Movers: In the present context, you should take certain precautions while selecting the Packers and Movers. For Instance, you should now conduct all the correspondence with your movers via email or Whatsapp and avoid physical contact with them to save yourself from unnecessary trouble. For more information, you can also read the blog: top 5 moving tips that will perfectly work in the month of July and stop the spread of covid-19.
Ask for Discounts: If you want to hire packers and movers and think along the lines that it is quite expensive to hire packers and movers, you must transform your thinking, as now in the present context many moving organizations are struggling to survive their business. So, you can hunt the internet and jot down the contact numbers of the moving organizations near you to ask if they are offering discounts to avail of their services.
Keep the Stress Away: As we cannot socialize in the present time to the extent we used to do before, so, it is much important that we must keep the stress away from ourselves. The fear of losing our lives can make us psychologically disturbed; therefore, it is extremely necessary to keep your mental health in check. Perform meditation on a daily basis and convey thanks to God every day you wake up. Have positive energy and feel If I have the life I can manage my earnings, so in the present context, all my efforts must be channelized towards keeping life safe and secure. Drink the adam ale, and eat nourishing diet and immunity booster food and fruits.
Don't Forget Your Life-Saving Tips: Always carry your hand gloves and facial masks along with you. Practice social distancing and stay away from the crowd. Dig into the preparations of your movers and check the temperature of the moving crew when they arrive at home or convey the moving professionals to do the same and send you the screenshot or pictures of the same.
Search For Other Options: If you are moving alone and you have less luggage you can hire mini truck or tempo services as per your Budget. It will save your unnecessary expenses to a great extent.
Choose Secured Options: In the present time, you can also get in touch with the top online portals that can make your life secure by connecting you with the right Packers and Movers near your area.
The Bottom Lines:
By following the above tips, you can stay stress-free when shifting alone. The key is to take extra precautions and stay safe as by committing a little mistake you will put your life in danger. We wish for your safety and prosperity and hope all your home shifting endeavors remain safe.
---
Leave Comments
|
Like
(97)