What are the Top 5 Affordable Places to Live in Gurgaon?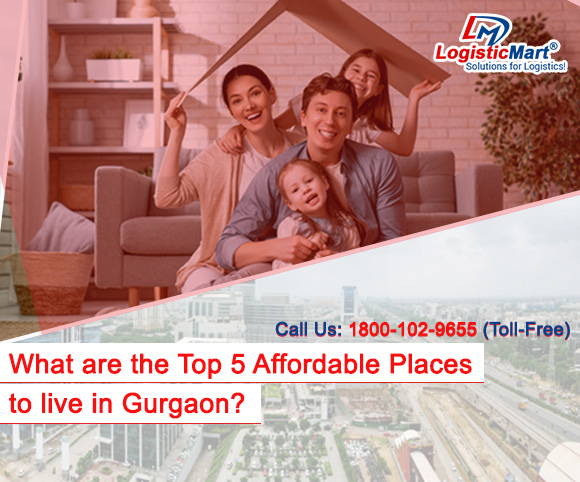 Contents
Should I shift to Gurgaon? Is it Affordable? Sounds nostalgic! Yes! Before you're going to move to this city it is necessary to find the best locality. Why? Hence, after Bangalore, this place is the 2nd biggest IT hub in the Asia-Pacific area. Approximately 60 million sq. ft. are covered by the commercial offices. No, doubt you will find the best places to live in Gurgaon at very affordable prices.
So, pull your socks and get ready with all your goods and baggage. Here I am going to elaborate to you about what attracts me to live in this city.
Over, the last 3 years, Gurgaon becomes the leading financial hub after Mumbai and Chennai. Therefore, it shows tremendous growth in the economy and now it is India's 3rd highest per Capita.
Why Gurgaon is known as a "budding & millennium" city in India?
1 year before when I was come here to live; I was curious and quite excited about my work. And now I am a part of this place because of its better lifestyle, facilities, Rapid Metro, or more. So, women who're nurturing for their professionalism then this place inspires you to learn more and more.
Let's be on the topic! So, before you're going to hire your packer and mover for quick House Shifting in Gurgaon know the location according to your budget.
Here're 5 localities that allow you to live on rent with your family and that's what makes this place millennium in India.
1. Do you think DLF phases- 1, 2, 3, 4 & 5 are the best place to live?
DLF Phases has its all your attention for its multiple real estate businesses, multinational companies, and nearby market and naming services.
Key Points:
The nearest metro station is Sikanderpur Metro and MG Road Metro station.
The rent range is Between INR 10,000 to 5 Lakhs
This place is having the best companies such as VRS enterprises, DLF Atria, Tata consultancy, or more.
Sahara mall, Vipul Agora commercial tower, City center mall, or more.
Secure and safe area to live in.
2. Why Sohana Road is highly preferable for a living?
I visited every corner of the area of Sohana road and I find sector-49 a better posh place to live.
Key points:
There are best budgeted PG and independent flat.
The residential is fully furnished and luxurious.
IT companies such as Starling software, Capgemini IT India Pvt. Ltd., or more are nearby.
Sector 55-56 Rapid Metro Station is 6 km away.
Omaxe city center, Saphhire mall, or more are nearest.
Crescent Park, Crimson park, etc are the best-visited place ever.
3. How does South City- 1 and 2 prefer a lot?
I prefer this place for those who extremely want to invest their money in Villas. Yes! Here you will occupy studios, villas, and bedroom apartments.
Key points:
The starting lease of a flat or rent is INR 5000.
This area is surrounded by malls, parks, better schools, markets, and hospitals.
Easy communication and blockchain of Packers and Movers in Gurgaon.
So you can shift here easily.
Did you know?
The city Gurugram produces 40 percent revenue of Haryana and is crucial for its economy.
Even the toll-plaza border between Delhi-Gurgaon is the 3rd highest in India.
The full form of MG road is Mehrauli-Gurgaon road, not Mahatma Gandhi.
4. Why MG road is the best residential place to live in Gurgaon?
This area is best suited for bachelor and working professionals. Hence, students can choose to shift with experienced packers and movers for quick and easy living.
Key points:
Hence, this place is covered with parks and police lines.
The facilities of the market and shopping are quite better.
Starting rent of PG and flats are INR 7000 to 25,000 or above.
5. Why Sushant Lok -1 and 2 is the best locality to shift in Gurgaon?
Well, this area is right behind Iffco chowk metro station. This area is highly posh and completely facilitated with shopping marts, parks, schools, restaurants, hospitals, or more.
Key points:
The minimum lease of this area is starting from INR 9000 to 2,00,000, or so on.
Plaza mall, Kendra market, Supermarket, or more are nearest.
Nilkanth hospital, Mayon Hospital, or such are nearest.
How do movers and packers help you to shift immediately?
According to my you can search such packing and moving services on LogisticMart. Hence, they are having a list of the best provider for moving and shifting facilities.
Conclusion:
I hope the above locations will be suitable according to your budget and requirement. Now you know the budget and surrounded facilities of these Best Places to Live in Gurgaon. Keep scrolling to hire a genuine one.
---
Leave Comments
|
Like
(7)