LogisticMart Helps You to Hire the Best Logistics Companies in Delhi NCR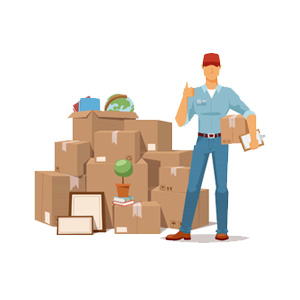 When you talk about services in Delhi NCR, you need a dedicated team of professionals who can help you give quality shifting services.  Right from packaging to moving, customers prefer it safety of goods as the first priority. People who search for moving companies in Delhi want multi-task handlers for complete shifting assistance. 
What Logistics Services We Provide To You?
There is an extremely vast competition between logistics companies in Delhi, it is impossible for a customer to call every single one of them.  LogisticMart strives to help you connect with the right moving companies in no time.  To make this process even more rightful we look into every warehouse company and freight company.
For customers who want to hire a truck or tempo or find the best packers and movers in Delhi, LogisticMart helps to connect those dots and give you the perfect end result. Once you have been connected to these logistics companies, it is up to you to choose from what suits your logistics needs.  LogisticMart is spread across not just Delhi NCR but other states like Bangalore, Jaipur, Chennai, Vadodara, Mumbai, Kolkata, Chandigarh as well. By providing assistance in every way in the step we want to be accountable for finding the best movers and packers in Delhi who hold the right experience.
How We Help You Find the Best Logistics Services?
As a company, we do everything, from understanding your moving needs and finding a logistics service that will fulfill your requirements.  Our company is committed to providing a wide range of logistics solutions not just limited to Delhi but also a list of logistics companies in Mumbai and various cities in India. With the help of our vast list of business partners. These partners offer services such as warehouse companies, movers and packers, transporter companies, and other freight forwarding companies in Delhi.  We, LogisticMart want to diversify with logistics service solutions.
 We help in filtering from a variety of moving companies in Delhi and choosing the suitable to your needs. The advantage of hiring a logistics company in Delhi is the experience and knowledge they offer to customers for moving from one location to another.  LogisticMart makes it easier for customers to connect with various types of shifting services in Delhi. We have the ability to describe our services as responsible, bona fide, and trustworthy among various warehouse companies, moving and packing services as well as other transporters in Delhi. Every logistics company listed with us is verified before they connected with you.
Through passion and dedication, we leave no stone unturned in providing freight forwarding companies in Delhi. LogisticMart is an influential company that has established its ground in providing the best logistics companies in Delhi to our users. Through effective business strategies, we have succeeded in expanding with a network of moving companies, air cargo sector and car shifting services, and warehouse companies.
Why Hire Logistics Companies through us?
·Competitive Prices:  The most factors is important for anyone with logistics needs. The price always depends on three types of factors; the starting point of your relocation, type of relocation needs, such as car transportation, pet relocation facility, cargo shipment, and finding the best movers and packers in Delhi. And the three factors depend on the number of goods and services that need to be shifted. We assure you of affordable relocation services.
Verified Logistics Companies: We only do business with verified logistics business partners. This gives our customers peace of mind. We ensure that all the logistics companies in Delhi as registered with us before you are provided with their information.
Free of charge quotations: We provide the 4 best logistics companies without any charge. From these 4 you can easily choose the most suitable company.
Variety of services:  Car transportation, air freight forwarding services, packers, and movers, etc. are some of the services we as a company offer our customers.
If you want to hire one of the best moving companies in Delhi, LogisticMart can provide you with the best moving solutions from our professional logistics solution provider. We promise to deliver hassle-free movement.
How do the Packers and Movers in Delhi Diversify?
These service providers will help you with anything including vehicle shifting. Services for Car Transportation in Delhi will be provided to those in need. If you or your company is shifting and you want to take the vehicles owned by you or your company to your new location, everything can be arranged. Vehicle transportation is usually done through trailers or containerized trucks. Your vehicle is loaded through a ramp and tied to the transportation vehicle, for safe delivery. In case your vehicle is shifted with other vehicles, the driver will use special maneuvers to load them onto their vehicle.
What can You do If You have Only a Few Goods to Move?
In case you just need a single vehicle as part of your transportation activity, that can be arranged too. You can Hire Chota Hathi on Rent in Delhi if you just want to move a few of your goods to a local destination. This vehicle is ideal if you are moving your bike or purchasing some furniture item.
What You can do for Local Shifting?
In case your goods to be transported are not too few nor too many, you can Hire Truck Tempo on Rent in Delhi. These vehicles require less parking space hence assisting you in localities with limited parking areas. They can be used for local or distant moves.
How the Warehouse Service will Come to Assist You?
At times you will need storage services for your goods. This can happen when your goods will reach before you and you have no one to assist with unloading at the destination. Businesses who do not have enough space for their goods can use the Warehouse Service in Delhi, provided by the packers and movers. Your goods will be kept in good condition and looked after. It doesn't matter if there are too few or too many goods, there is a solution for everything.
How do the Cargo Services Come in for Long-Distance Shifting?
You may be looking to shift your goods via ships or aeroplanes. Cargo Service in Delhi will assist you with this. They will arrange spaces for you on these and will do all the paperwork for you. You just need to give them the nature of your cargo and the destination and the rest will be taken care of. In case of movement through seaways, your goods will be loaded into a container that will be sealed and opened only at the destination. Hiring space on the aeroplanes can be expensive, but it is the fastest mode of transport for distant deliveries.
Why Getting a New Job Need not be Full of Stress?
There are a number of professionals in Delhi who live in single rooms as paying guests. If you have got a new job anywhere in the city or in another city the Room Shifting services in Delhi will come to assist you. As most of these professionals travel light, they can assist in the packing and loading.
How do the Packers and Movers Assist with Home Shifting?
Home shifting is a common practice followed only by those who are willing to experiment with new locations. Relocation Services in Delhi will assist these individuals whether for movement within the city or across the country. Even new home buyers can use these services.
Why Extra Effort may be Required for Apartment Shifting?
Similarly, the services for Apartment Shifting in Delhi, know how to load and unload goods from the high-rise buildings. The lift will come to your assistance but if your goods like your furniture do not fit into these there can be problems and you will have to use the stairs, which can be physically exhausting.
How the Shifting Services will Make Flat Shifting Fun?
There are major new developments in Delhi including new housing structures that are attracting first-time home buyers. Flat Shifting services in Delhi will help you in moving into these.