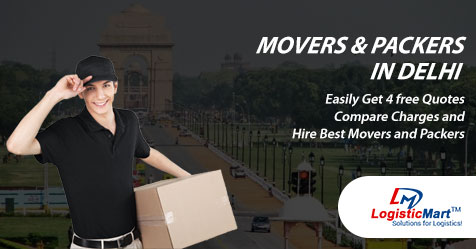 LogisticMart Gives You Cost Effective Delhi Packers and Movers Services
LogisticMart offers one of the most reliable logistics services by helping customers find best logistics companies in Delhi who understand types of shifting services such as Furniture, pet shifting, office goods, home shifting services in Delhi, etc. that helps you connect better through us. Our ultimate objective is to help customers in the best possible manner by providing affordable and secure, decently priced packers and movers in Delhi.
Every single moving company listed with us, is verified and 100% authentic for customers reference. Offering world class services, we are always committed to provide customers with cheapest packers and movers in Delhi that helps to bring top-notch customer satisfaction results.
How LogisticMart Helps you to Compare between Shifting Services?
Delivering customers goods unharmed, timely and safely local movers and packers in Delhi and other part of Delhi. We provide customers with the information of the best shifting service companies that makes it easier for customers to choose. This helps customers to plan and decide which is the best rates packers and movers Delhi they want to hire.  LogisticMart is a perfect platform that offers customers assistance to find the inexpensive carrier companies.  Here are some features of hiring shifting companies at LogisitcMart: -
Detailed information: We provide information of 4 professional packers and movers companies in Delhi that one can as a choice, depending on the type of service customer requires. From moving furniture to car transport, detailed information helps customers to compare between carrier companies.
Free of charge quotation: LogisticMart is a platform that lets its users compare between logistics companies. This helps customers to avoid any pressure of choosing from various logistics services. Similarly, your details will be shared with the best packers and movers.
Pre-verified services: LogisticMart always verifies every single registered moving company in Delhi before referring them further to its clients. As a company, we understand the resistance of hiring someone who has been thoroughly descriptive.
We work to our best potential to fulfill the promise of delivering world-class services through competitive rates of packers and movers. We have a team of highly knowledgeable professionals who are available 24*7 to provide customers with support, information and details that is required when customer hires a mobility service.
Top 5 Influential Factors That Affect Movers and Packers Charges in Delhi
1.   Cost of packaging: Packaging can be of different materials depending on the type of goods that need to be packed. For instance, bubble wrap is an important material that needs to be used for fragile items. 
2.    Insurance cost: This cost may or not be included in the final quotation you will receive. You need to check with shifting service provider about the insurance charges and the type of insurance you require on your items. 
3.  The size of the goods: 1 bhk flat items will cost you much lesser than 3bhk goods which need to be relocated. The quantity of goods has a major influence on what needs to be moved. Moving goods would require extra manpower if there is a lot of items to be moved.
4.   Types of services you require: Apart from moving items you might require assistance to move your vehicle or maybe your family pet as well. It is important that you evaluate what type of logistics services you need before you hire any company. The cost of the entire services will depend on the type of services you would require.
5. Experience of the company: A company known to be reliable and highly experienced in moving goods might charge more than a logistics startup. This factor mainly influences the entire cost of relocation. Experienced companies may offer express or slow delivery depending on the type of expedite a customer needs, this is extremely an situational factor. 
Local Packers and Movers Charges/Rates in Delhi
| | | | |
| --- | --- | --- | --- |
| Items / Distance | Upto 10 KM | 11-20 KM | 20 KM-50 KM |
| 1 BHK | 3000-6000 | 5000-8000 | 7000-10000 |
| 2 BHK | 5000-10000 | 7000-12000 | 9000-15000 |
| 3 BHK | 8000-12000 | 10000-15000 | 12000-18000 |
| 4 BHK | 10000-15000 | 15000-20000 | 16000-22000 |
| Few Household Goods | 1000-3000 | 2000-4000 | 3000-6000 |
Packers and Movers Charges/Rates in Delhi For Domestic 
| | | | | | |
| --- | --- | --- | --- | --- | --- |
| From  | To | Distance | 1 BHK | 2 BHK | 3 BHK |
| Delhi | Mumbai | 1420 | 15000-20000 | 18000-25000 | 21000-30000 |
| Delhi | Bangalore | 2175 | 18000-25000 | 22000-32000 | 28000-38000 |
| Delhi | Pune | 1435 | 16000-22000 | 19000-27000 | 22000-32000 |
| Delhi | Ahmedabad | 950 | 10000-15000 | 14000-18000 | 16000-24000 |
| Delhi | Kolkata | 1490 | 17000-23000 | 20000-28000 | 24000-34000 |
| Delhi | Chennai | 2210 | 18000-28000 | 24000-34000 | 30000-40000 |
| Delhi | Hyderabad | 1585 | 18000-24000 | 22000-30000 | 25000-35000 |
Advantage of Hiring Movers and Packers in Delhi through LogisticMart
There are a bagful of benefits that customers can avail when they hire a reliable team of assemblers that help them shift. Here are some of the unique benefits that customers can avail with LogisticMart:-
Genuine list of carrier companies
Benefits of talking to our customer services that are a bunch of experts in providing customers logistics guidance. These experts help you find specific details such as top names of car carriers services in Delhi. This helps customers select from the reputed logistics players.
Check review and ratings before customers hire a packers and movers service as per their charges that let customers take a sensible decision.
LogisticMart takes accountability for helping customers find the professional packers and movers in Delhi with the list various companies that customers can compare between. We not only have a footprint in Delhi but also an unparalleled network for affordable logistics companies in Gurgaon, Faridabad, and Ghaziabad as well.