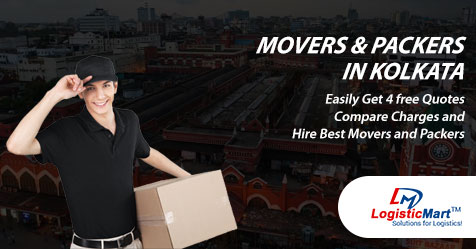 Grab The Most Professional Packers and Movers in Kolkata
Shifting from one place to another is an extremely time-consuming task which can be quite expensive at times. The most daunting aspect of relocation is the security of your belongings which can only be balanced out by finding the best packers and movers in Durgapur Kolkata. A good moving company can certainly make a huge difference in the way how our entire shifting experience shapes out. You will find many movers and packers in Kolkata shouting out to provide you outstanding services however, choosing that one specific company out of endless options can leave you baffled.
LogisticMart cuts down all your worries and finds you top packers and movers in Kolkata without any stress. We bridge the gap between moving companies and customers who are in need of their services by offering you unmatchable moving solutions. We aim at providing you options for the cheapest packers and movers in Kolkata that help you to pick one among various service providers available.
In the past few years, there has been a massive change in the way we choose a relocation company. With a platform like LogisticMart, finding top movers and packers in Kolkata has never been so simple. Moving to a city is not a one man's job and it does require some professional guidance. By moving belongings all by yourself there is a high probability that your goods might get damaged on the way. Hiring a professional packers and movers company in Salt Lake Kolkata helps to save you the running around for material and labor to move your goods.
Here is an Approx. Estimate of Cost for Local Shifting Services in Kolkata
| | | | |
| --- | --- | --- | --- |
| Type of Relocation | 0Km-10Km | 10Km-30km | 30Km-50Km |
| 1BHk Shifting goods | 4000-8000 | 5000-10000 | 8000-14000 |
| 2BHk Shifting goods | 5500-10000 | 6500-11000 | 8500-18000 |
| 3BHk Shifting goods | 7000-11000 | 9000-13000 | 13000-20000 |
| 4BHk Shifting goods | 9000-12000 | 11000-16000 | 15500-23000 |
Questions to ask when hiring Movers and Packers in Kolkata
The moving industry in Kolkata lacks a proper regulatory body and that's why now a major part of it is run by fraud and newcomers. Therefore it becomes equally important to hire reliable packers and movers in Kolkata. For this a few sets of the right questions while employing a moving company will do the job.
Are they registered with any government authority?
All business firms including packers and movers in Kolkata have to register themselves with the government. So before hiring ask for proper registration documents and license. The slightest mismatch means that you should start looking for another company.
Do they have all the necessary resources to carry out the job safely?
A moving company has all the resources like moving trucks and skilled manpower to relocate all kinds of goods. Visit their office once and check yourselves whether they are fully capable to handle all your belongings.
How previous customers have reviewed them?
The reviews and ratings of the previous customers matter a lot. Users generally post-truth after receiving the services. So you can get a fair idea of whether the service provider is reliable or not. If you find too many negative reviews then it's time to find another one.
Do they provide any kind of insurance service?
Trustworthy packers and movers in Kolkata provide full assurance of safe handling of goods along with proper insurance coverage. This saves you from any particular kind of loss if a mishap occurs during the transit.
Things to do before shifting with all your belongings
Moving is complicated and requires proper shifting services in order to move your belongings in a safer manner. Pre-move preparation is very necessary in order to shift goods. So here's a list:-
Proper research- Do better research in order to find the best packers and movers in your locality. If you implement this step properly then you'll save yourself from a lot of problems later. A fraud moving company can make things a lot worse.
Select your desired moving company- There must be a lot of relocation companies nearby your locality. Choose one after a proper background check and call them at your place to provide an estimate of your relocation. Check their reviews and ratings before hiring.
Use proper packing material- The safety of your goods depends a lot on the way it has been packed. Quality packaging material should be used for the safe transit of your good. You can take packing services from your desired moving company or choose to do it on your own. But make sure to do it before the pickup truck arrives at your doorstep.
Reduce your stuff- Sell or donate the extra or unwanted stuff. Getting rid will help you to save a lot on packing material and will reduce your load. This will also increase your social value.
Is it safe to hire Packers and Movers in Kolkata from LogisticMart?
LogisticMart has more than a decade of experience in providing the best moving solutions to its customer. We cater to all kinds of services such as furniture shifting, home shifting services, pet moving facility, moving heavy commercial goods, warehousing facility, freight forwarding services, car/bike transportation services, and so on.
LogisticMart is a 100% reliable platform that connects you with trustworthy packers and movers in Kolkata.
We have a huge database of verified movers and packers in Kolkata who are ready to serve you with their best relocation services.
We are one of the most renowned company names in the packers and movers field. The past experience helps us to understand the real-time obstruction that occurs during any goods relocation.
The companies listed with us provide the best insurance coverage to its customers. This makes us one of the most reliable sources that connect customers to quality logistics services.
The staff working with us is quite professional in their work and has been in this industry for a long. Our dedicated customer support team ensures that all your complaints are heard and resolved.
You can even view your desired packers and movers documents on our app. For affordable and secure home shifting in Kolkata, you can always rely on us.
Find Genuine Packers and Movers Rates in Kolkata Through Us
There are multiple factors that can influence packers and movers charges in Kolkata but first, you need to have a clear understanding of the type of shifting assistance you require before you hire a moving company. LogisticMart offers you a plethora of shifting solutions by connecting you with the top packers and movers in Kolkata who provides impeccable shifting solutions all over the city such as:-
Areas of Kolkata District
Central Kolkata - Camac St., Bhawanipore, Park Street, Wood Street, etc.
South Kolkata - Jodhpur gardens, Jadavpur, Lake Gardens
Areas like Salt Lake, Kasba, Alipore, Behal
These are the detailed information of areas where our packers and movers provide services in this city which are:
| | | | | | |
| --- | --- | --- | --- | --- | --- |
| Bara Bazar | Dunlop | Kalighat | Khardah | Tiljala | Bansdroni |
| Behala | Dum Dum | Dharmatala | Garia | Maniktala | Agarpara |
| Bonhooghly | Tangra | Regent Park | Belghoria | Bow Barracks | Golf Green |
| Bow Bazar | Ariadaha | Shyam Bazaar | B.B.D. Bagh | South Dumdum | Dhapa |
| Kankurgachi | Bara Nagar | Dalhousie | Baguiati | Raja Bazaar | Rajarhat |
| Park Street | Taltala | Barrackpore | Alipore | Lake Town | Maheshtala |
| Ballygunge | Bhowanipore | Taratala | Khidderpore | Sodepur | Thakurpukur, etc. |
| Tollygunge | Cossipore | Dakshineswar | Ultadanga | Entally |   |
Packers and Movers Charges in Kolkata
Local Packers and Movers Kolkata Charges
| | | | | |
| --- | --- | --- | --- | --- |
| Moving Type | Packaging Charges | Labor Charges | Transport Charges | Approx. Total Charges |
| 1 BHK | 800-1800 | 1100-3100 | 1100-3200 | 3000-8000 |
| 2 BHK  | 1000-3500 | 1500-4500 | 1500-3500 | 4000-12000 |
| 3 BHK | 1200-4000 | 1600-5500 | 2000-5500 | 5000-16000 |
| 4 BHK | 1500-5500 | 2000-8000 | 2500-10000 | 6000-24000 |
Domestic Movers and Packers Kolkata Charges
| | | | | | |
| --- | --- | --- | --- | --- | --- |
| From  | To  | 1 BHK | 2 BHK | 3 BHK | Few Household Items |
| Kolkata | Delhi | 20000-26000 | 30000-36000 | 45000-55000 | 14000-18000 |
| Kolkata | Banglore | 12000-15000 | 18000-25000 | 27000-35000 | 8000-15000 |
| Kolkata | Mumbai | 15000-20000 | 22000-27000 | 30000-37000 | 9000-15000 |
| Kolkata | Chennai | 10000-15000 | 15000-20000 | 21000-25000 | 5000-12000 |
| Kolkata | Kolkata | 20000-27000 | 32000-42000 | 45000-55000 | 14000-20000 |
| Kolkata | Ahemdabad | 17000-22000 | 25000-35000 | 40000-50000 | 8000-14000 |
| Kolkata | Chandigarh  | 22000-28000 | 33000-40000 | 48000-58000 | 15000-20000 |
| Kolkata | Vadodra | 17000-23000 | 24000-35000 | 42000-5000 | 9000-15000 |
| Kolkata | Pune | 15000-18000 | 22000-27000 | 30000-40000 | 7000-12000 |
| Kolkata | Lucknow | 18000-26000 | 29000-35000 | 42000-55000 | 13000-18000 |
| Kolkata | Navi Mumbai | 16000-22000 | 23000-30000 | 32000-40000 | 8000-17000 |
| Kolkata | Surat | 15000-21000 | 23000-35000 | 38000-48000 | 8000-18000 |
| Kolkata | Jaipur  | 17000-26000 | 28000-35000 | 40000-55000 | 14000-18000 |
We at LogisticMart offer budgeted moving service solutions in Kolkata. Our company's aim is to change the perception of relocation services and bring top-notch movers and packers to Kolkata right to your doorstep. We offer competitive packers and movers rates in Kolkata that encourages people to take this service rather than moving items on their own. Having years of experience we offer nothing else than the best business partners who excel in moving goods.
How to Choose Reliable Packers and Movers in Kolkata with Us? 
You can just dial our logistics experts at 1800-102-9655 and they will guide you through the entire process. These experts thoroughly evaluate your shifting requirements such as 1BHK, 2BHK, or a kitchen room set to understand the number of items that need to be moved, before providing you with the best packers and movers deals.
LogisticMart has always believed in providing the best packers and movers cost estimates that bring a better understanding of how one can choose a shifting solution provider. We bring in high-quality services from pre-verified movers and packers in Kolkata. To keep your privacy intact we never share your details with any third-party moving company. We provide you information with the 4 best quotations absolutely free of charge. Our company has come a long way to become one of the most sorts after logistics service providers not just in Kolkata but can also find top packers and movers in Chennai, Delhi, Vadodara, Bangalore, Pune, Hyderabad, Ahmedabad, and various other places across the nation.