Trusted Packers and Movers Services in Lucknow through LogisticMart
LogisticMart helps to connect customers with the best packers and movers in Lucknow. Our company offers customers a way to find trustworthy shifting solutions without any hassles. We provide the most reliable solution for anyone who is looking for shifting assistance. We are the best online platforms that fetch you professional packers and movers in Lucknow. 
How to Choose Packers and Movers in Lucknow through Us
Through a proper evaluation, these carrier companies understand customers' logistics needs before taking any step further. Just reach out to us and dial 1800-102-9655 and tell us your requirements. We promise to call you back within 15 minutes and give you the 4 best movers quotations free of charge.
Beneficial Aspects of Hiring Packers and Movers in Lucknow through LogisticMart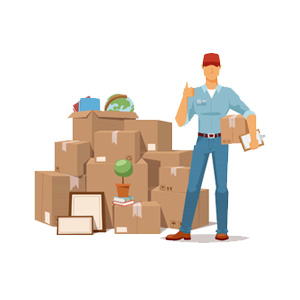 Stress-free: Shifting can really take a toll on any customer with so many things to cover in a checklist. Our company plays an important role in cutting down relocation stress through a helpful shifting environment with the help of a reliable customer support team, dashboard facility, and only hiring a genuine logistics service provider.
Financial balance: Our Company understands that pricing plays an important role. A small amount of investment is a must when a customer looks for the best carrier services. However, we as a company create a balance for delivering affordable moving solutions.
Damage Avoidance: Only an experienced shifting service will understand the importance of quality packaging with reliable material. We connect our customers to moving companies that are already well-known in this industry.
Top Areas in Lucknow Where Our Packers and Movers
Hazratganj
Indira Nagar
Gomti Nagar
Kapoorthala
Nishatganj
Sitapur
Jankipuram
What Makes LogisticMart Different from Other Platforms
LogisticMart helps customers to hire moving companies that are experienced enough to pack household goods in the best possible manner. These local packers and movers in Lucknow understand the various shifting techniques that help to relocate as per customers' requirements using the best packaging and handling material. Our services are not limited to just Lucknow but we also provide house shifting companies in Noida, Delhi, Kolkata, Vadodara, and other cities in India.
Every listed movers and packers company with LogisticMart is pre-verified before its details are shared with customers. Our company offers free-of-cost quotations that help customers compare rates of packers and movers in Lucknow. We ensure that every customer gets high-quality shifting services with the help of carrier companies. We have a team of skilled and established shifting companies listed under us. These moving companies promise credible services and take full responsibility for providing a pleasant relocation experience.
Top Packers and Movers in Lucknow Labour Cost - Local and Domestic Household Shifting
The following table will reveal the estimated prices of the movers and packers in Lucknow in terms of domestic and local relocation:
For Local Relocation from Lucknow

Transportation cost

Rs 1,000 to Rs 4,000

Packing, loading & unloading

Rs 2,000 to Rs 6,000

For Domestic Relocation from Lucknow

Up to 400 km

Rs 4,000 to Rs 30,000

400 – 800 km

Rs 6,000 to Rs 40,000

800 – 1300 km

Rs 7,000 to Rs 45,000

1300 – 1900 km

Rs 8,500 to Rs 50,000
Top Reasons to Choose Us
Right expertise in providing you variety of packers and movers
Accurate information about Packers and Movers
Aims to offer economic rates
Goods safely are our company's assurance
Verified movers and packers that give customers peace of mind.
Customers can compare prices of packers and movers
It's been more than a decade since our company has been helping customers find the most reliable, secure, and affordable. We cover various types of shifting services such as home shifting, moving furniture, office equipment, and goods and pet moving facility.
There are multiple manufacturing industries where Lucknow Packers Movers are necessary. Hence, they work for complete packaging and moving services. We've been working for many years were more than our 1500+ customers join us regularly. So, you don't need to worry about trust and secure services. 
Know how we're the first choice for shipment and relocation?
Our professional movers and packers work in the manner of quick packaging and delivering all the packages at the exact location. Hence, We understand that trust is the priority so here we consider you about our beneficial services.
License services - Our professional Packers and Movers in Kanpur are verified. Even the movers are also licensed and prefer to work with legal documents and passes.
Documentation - Hence, we identify the legality of the customers on the behalf of their Adhaar, PAN card, current address, etc. This is what makes us trustworthy and professional shifting services providers.
Transit Insurance - Our professional shifting services always consider you transit insurance where it covers further damages and theft during transportation.
Packers and movers - The professional packers visit your place and inspect all the goods. Then they carefully pack and move the packages to the exact location. 
GST billing system - The Goods and Service Tax (GST) proves the services legal and reduces unnecessary hurdles during any vehicle transportation or home shipment.
Now, you know how Packers and Movers in Allahabad at LogisticMart are trusted. Therefore, you can contact our customer support. They will definitely consult you for all your budget-related doubts and queries. 
What are the other logistic services?
Our professional movers and packers are not limited to just one or two services. They also offer you a complete logistic solution. 
Warehousing
Storage
Inventory management
Vehicle relocation 
Any particular packaging or shifting services
What are the better ways to hire professional Packers and Movers?
At LogisticMart you'll find professional  Packers and Movers in Varanasi. You need to scroll the list according to your nearby location and budget. Accordingly, meet with them and share the complete details of home shifting and relocation. It will be easier to compare the prices and experiences. Then finalize a genuine one. 
Our company understands the fears and doubts a customer might incur during a shifting process so we deliver services accordingly. We believe in providing our customers surety of their goods and belongings by giving them professional assistance. LogisticMart takes complete accountability in providing for a variety of shifting services right from movers and packers in Ghaziabad to finding a car carrier company in Kolkata, we take pride in being logistics aggregators.
Now it is easy to contact our professional movers and packers at 1800-102-9655 and email us at contact@logisticmart.com. And that's how LogisticMart gives professional services to the manufacturing and automobile industries.