Find Top Packers and Movers in Navi Mumbai Through LogisticMart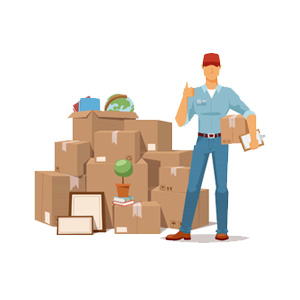 Navi Mumbai, the urban township of Mumbai has developed at a rapid pace. This city offers a great lifestyle and various job opportunities. This has created various relocation service requests which have led to the rise of professional movers and packers in Navi Mumbai. LogisticMart brings you flawless logistics service solutions by helping you find top packers and movers in Navi Mumbai.
Why Trust us for Shifting Service with Packers and Movers in Navi Mumbai?
Have you ever thought about the shifting of heavy furniture from one state to another? Hence, it seems challenging that's why packers and movers in Navi Mumbai make it easy. Rather you're shifting from Delhi to Navi Mumbai the charges are according to the distance and the weight of the goods. Even, there're millions of people who tended to relocate during the era of Covid-19. It means such movers and packers are crucial for quick and easy Home Shifting services in Navi Mumbai.
Whenever people want to relocate from then LogisticMart is the best solution for quick & easy shifting with heavy packages. On our web portal, you will know about the nearby providers & also about the budget.
What are the Types of Packaging and Moving Services?
Generally, the team of packers and movers in Vashi is the backbone of the logistic industry. They work in the manner of packaging each and everything and delivering it to the consumer.
Manufacturing industry: Well, packaging of raw materials is necessary and enhances productivity into the profitability.
Vehicle packaging: Millions of automobile companies require such cars and bike packers and movers for delivering the packed material to the right place.
Home shifting: We all are aware of the home relocation. With family, a systematic way of moving the packed goods reduces the chances of damages and theft.
Commercial shifting: When you move your business to another state is an official shift.
What Makes LogisticMart Stand Out From Our Competitors?
Our company helps to bring you a reliable list of movers in Mumbai as well as Navi Mumbai that specialize in providing services such as commercial shifting, Furniture shifting services in Navi Mumbai, car transportation, two-wheeler shifting services, air cargo, freight forwarding services, etc. We provide competitive packers and movers charges in Navi Mumbai that encourages customers to opt for a shifting company rather than taking all the burden on themselves. Here are local shifting charges for any customer who wants to move within the city.
LogisticMart provides customers with the 4 best quotations absolutely free of cost. This gives our customers a rough idea about packers and movers cost estimates which helps our clients to decide better. 
Packers and Movers Cost Estimate for Local Shifting Charges in Navi Mumbai 
| | | | |
| --- | --- | --- | --- |
| Type of Relocation | 0Km-10Km | 10Km-30km | 30Km-50Km |
| 1BHk Shifting goods | 4000-8000 | 6000-10000 | 8000-15000 |
| 2BHk Shifting goods | 5000-9000 | 6000-11000 | 7500-17000 |
| 3BHk Shifting goods | 6000-11000 | 7500-13000 | 9000-19000 |
| 4BHk Shifting goods | 8000-12000 | 10000-14500 | 12000-22000 |
Top Local Areas Where Our Movers and Packers Provide Services
Vashi
Nerul
Kamothe
Kharghar
Panvel
Seawoods
Ghansoli
Various other areas in Mumbai and Navi Mumbai
How LogisticMart Bring an Edge to Your Relocation Experience?
Highly Competitive Prices
FREE packers and movers quotations
Only VERIFIED packers and movers
Experienced Team of Experts
Precise, Timely Shipping, Cost-Friendly, and Secure Shifting Solutions
LogisticMart is not restricted to just Navi Mumbai but also Top Movers and Packers in Pune, Kolkata, Chennai, Bangalore, Hyderabad, Delhi, Delhi NCR, Vadodara, and other cities overall India. Our services go beyond the radius of Navi Mumbai and its neighboring regions. Once you approach us for any commercial or home shifting inquiry, we will provide you with trusted delivery for your goods in the safest way and hassle-free. Our company takes credibility, accountability and promises trustworthy shifting solutions by finding faultless relocation experiences that you will always remember. We strive at bringing door-to-door relocation solutions that cater to all kinds of market segments.
What are the Intercity Charges of Packers and Movers in Navi Mumbai?
Approximate Idea of Movers And Packers Charges For Navi Mumbai Local and Domestic Shifting
The following are the charges of the movers for relocating of the houses of 1 BHK, 2 BHK, and 3 BHK or for your few items:
| | | | | |
| --- | --- | --- | --- | --- |
| Moving Items / Distance | Up to 400 Km | 400-800Km | 800-1300m | 1300-1900Km |
| Few Household Goods | 5,000 - 10,000 | 7,000 - 12,000 | 8,000 - 15,000 | 9,000 - 18,000 |
| Complete Home Shifting | 12,000 - 22,000 | 13,000 - 25,000 | 14,000 - 26,000 | 15,000 - 30,000 |
| 1 BHK House | 8,000 - 15,000 | 10,000 - 20,000 | 11,000 - 22,000 | 12,000 - 24,000 |
| 2 BHK House | 10,000 - 18,000 | 12,000 - 25,000 | 14,000 - 24,000 | 15,000 - 28,000 |
| 2-3BHK House | 12,000 - 22,000 | 13,000 - 25,000 | 15,000 - 28,000 | 18,000 - 30,000 |
| 3 BHK House | 15,000 - 25,000 | 17,000 - 30,000 | 19,000 - 28,000 | 22,000 - 34,000 |
| 4 BHK House | 17,000 - 28,000 | 18,000 - 32,000 | 18,000 - 32,000 | 28,000 - 42,000 |
| 5 BHK or Villa | 20,000 - 30,000 | 25,000 - 40,000 | 24,000 - 38,000 | 36,000 - 48,000 |
| Complete Home + Vehicle | 14,000 - 26,000 | 15,000 - 30,000 | 18,000 - 38,000 | 20,000 - 42,000 |
| Vehicle Only | 3,000 - 5,000 | 4,000 - 7,000 | 5,000 - 9,000 | 6,000 - 10,000 |
| Few Office Items | 8,000 - 15,000 | 10,000 - 20,000 | 12,000 - 24,000 | 14,000 - 28,000 |
| Complete Office | 12,000 - 26,000 | 15,000 - 30,000 | 17,000 - 32,000 | 20,000 - 40,000 |
How do Packers and Movers in Kharghar Work?
The procedure of packers and movers in Kharghar shifting is completely depending on the distance and the number of goods. Rather, you're living in 2BHK or 3BHK the charges are accordingly.
They inspect the goods and accordingly organize the task.
Then they categorize the goods in the manner of fragile and casual ones.
After then they carefully wrap and pack them all that makes them safe from any scratches and further damages.
Therefore, they carefully load all the heavy packages into the truck.
Then the team of movers shifts them to the customer's location.
At last, they unload and unpack the all which is quite worth of investment.
Why Movers and Packers are Crucial for Home Shifting in Navi Mumbai?
You should know that they save your time and help in quick shifting.
Even, they know where to start and when to end.
Hence they also offer transit insurances that cover further theft and damages of the goods.
You don't need to worry about any delay they do all the relocation on time.
Therefore, the professional team of movers knows the fastest route for the complete shipment.
Accordingly, the team of packers and movers in Airoli at LogisticMart are is highly experienced. Even they also make home shifting easier.
How LogisticMart is the growing industry of Navi Mumbai Movers and Packers in 2021?
With more than 6000+ verified services providers and thousands of regular happy customers; we bring more efficient packing and moving facilities. The more accurate web portal makes the best end-user experiences. Yes! Our Navi Mumbai Movers and Packers are now easy to find for relocation or any kind of vehicle shifting from one place to another.
Reasons Behind Our Successful Journey!
The quick shipment- We never limit our services to anyone or two providers. LogisticMart always believes in providing multiple solutions according to requirements. From warehousing to the complete shipment; here you'll get the A to Z transportation solution.
Packers and movers for all - The professional movers and packers work for quick home shifting. They also leverage the profitable aspects of manufacturing industries and automobiles.
Vehicle relocation - We also work for multiple automobile industries where our bikes and cars movers and packers manage all the bulk vehicles. After that, they deliver all of them to the right consumer.
Easy to find us - Now, you can find us nearby to your exact location. You can find our nearby services as "Navi Mumbai Movers and Packers Near Me". Our network broadens in every corner of urban, rural, and industrial areas. We assure you that you will find the best services around your nearby location.
Accurate web portal - Hence, it is easy to operate our website for better comparison. Now, it is easy to get free quotes that will be beneficial for further dealing.
LogisticMart provides You with Safe and Secure Packers and Movers in Dombivli Know How?
We understand that security during shifting is a must. So, our professional Packers and Movers in Dombivli work according to your requirements. Your trust is our priority.
Transit Insurance covers further damages during shifting the goods. 
GST billing to show the legality and the exact bills for a state-to-state relocation. 
GPS tracker to know about every single update during the arrival and departure of parcels and vehicles. 
E-way billing or transportation taxes are necessary for Navi Mumbai Home Shifting without any chaos. 
The quality of packaging materials like cartons, rope, duct tape, wrapping, etc. are good enough for complete protection from damage and thefts.
These are the better services where you don't need to worry about anything with us.
How do we communicate and provide better solutions to our customers?
The professional Packers and Movers in Kamothe work according to the customer's expectations. We prefer to understand and recommend the best shifting solutions.
Still, Having Any Doubt?
Our professional customer services will easily connect you and consult you about the Movers and Packers Charges in Navi Mumbai and more. So, contact us at 1800-102-9655 or you can mail us at contact@logisticmart.com. In that way, you'll find us beneficial and genuine. So, what are you waiting for? Sign-up with us and know what we offer and how we work. This is what makes us better and trusted providers in India for quick and easy relocation. Hurry up! Book packers and movers now!