Posted Date: 30-06-2020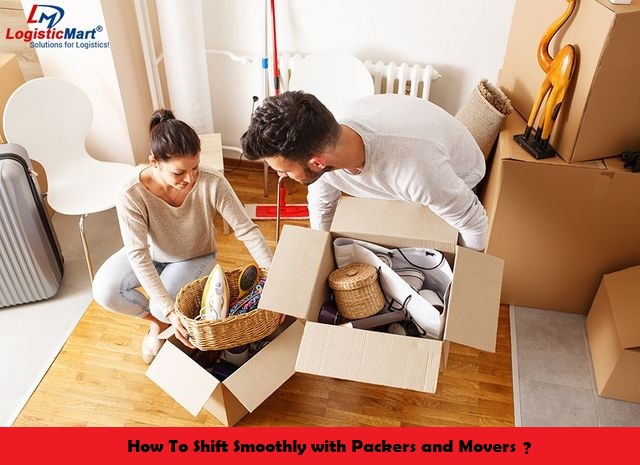 Summary:  Planning any relocation journey seems out the toughest battle to hit for a layman. If you are moving out for the very first time or are experienced candidates in shifting your home, this guide will make your planning part quite easy. Have a look at some of the key takeaways that you will get in this blog:
Some Key Tips to Plan Your Home Shifting in the Perfect Manner
Decide the three Most Important activities in the Planning stage
When to move ahead with your family members
How to move ahead to the new location?
Check Out Packers & Movers Charges before Shifting
We all know that every human being is sociable and gregarious by their very nature. As we are social we love to roam around and explore various destinations all around us. Are you a denizen of Kolkata, the city of joy, but looking forward to checking into some other destination permanently? If yes, we have prepared this extensive guide with a purpose to give a kickstart to your moving preparations and it will be extensively useful to you if you are looking for the services of home shifting in Kolkata.
Some Key Tips to Plan your Home Shifting in the Perfect Manner
We all sail in the same boat when it comes to planning our move to the next destination. We are surrounded by fears and anxieties as in an atmosphere of hustle and bustle; it is hard to spare time for planning your move. Planning is the most important stage that must be conceived properly to get effective results.
Decide the Three Most Important Activities in the Planning Stage:
Why Move to the Next Destination and give an honest answer to yourself.
When to Move and decide about the best season to move your home?
How to Move and pick the best alternative when moving ahead.

Going deeper, it is extremely important to contemplate over the reasons why it is essential to move at this time? Before finalizing anything, it is extremely important to understand that all persons in your family must be healthy enough to move to the next destination.
If you are planning to move with the aid of packers and movers in Durgapur, no person must be ailing from a chronic illness or especially no women should be in the family way. If you execute your home shifting in such circumstances, mind it, it can turn out to be an utter fiasco.
When to Move with your Family Members?
Deciding when to move can be a key concern of every person heading towards another city. Moving in the busiest season can be a source of breaking the bank. So, choosing off-season to move can be the best decision for all of us when we are planning when to move. Choose weekdays instead of weekends as it is financially affordable for all of us.
Some Key Benefits of Off-Season Shifting are expressed through this visual diagram: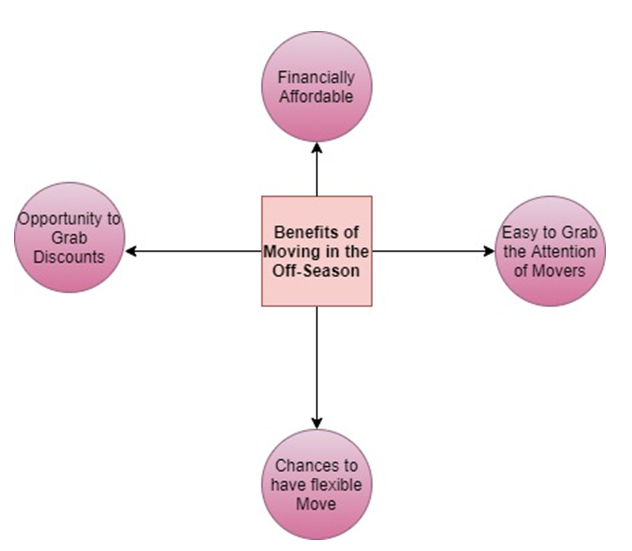 How to Move Ahead to the New location?
The third key question is how to move once you have decided to head over to the next location. The two best alternatives that you have in front of you are:
Do it yourself Moving
Choosing Packers & Movers
As per your mood, you can choose any of the modes, but choosing Packers and Movers is the best idea as the hands-on experience of moving professionals will not let your move drowned in between of your journey. The Packers and Movers you choose must carry out the operation as per the standard practices of the moving industry.
If you are planning to hire packers and movers in Kolkata to move to Bangalore, you can have a look at the trustworthy sources to connect with decent moving professionals.
Go for references but do not forget to scrutinize the authenticity of the references given by friends, family, neighbors. Mind it, blind trust can be the biggest loophole when you are moving ahead to a new destination.
Consider their mode of services. Do they provide only home shifting services or cover extensive services such as office shifting services, vehicle shipping services, warehouse and transportation services, truck and tempo services? If yes, only then proceed ahead with the enquiry.
Choose Packers and Movers through renowned online portals such as LogisticMart and MoveMYCAR.in. You will get the support of the best moving professionals while enjoying the comfort of your home.
Have a look at some key factors that can help you dig deep into the truth of your moving professionals.
Do they conduct a pre-moving survey or not?
Do your moving crew offer delivery of services on-time? Check out the past records by connecting with references on social media.
Have they registered their commercial enterprise with  Shop and Establishment act. It is important to note that every commercial enterprise operating their business in India should register as per this act and work under the compliance of the guidelines stated by these acts.
Check out their license, insurance, and other certificates.
Ask them if they provide insurance to keep your goods safe and secure.
Do they have a stable physical address. Check out their online reputation. Apart from visiting their website, it is extremely important to check out their accreditations and review at different professional websites such as Trustpilot, Google My Business, and other such platforms.
Last but not least we recommend you to visit the office of Packers and Movers. In the present circumstances of COVID-19, stay at home, and conduct research virtually.
Check out Packers and Movers Charges Before Shifting:
Seemed that you are ready to pack your bags. No, not yet, as you are missing the biggest factor that will influence your budget.
What are the factors that Effect Packers and Movers Charges?
We are illustrating the moving charges through the table that have placed underneath:
| | |
| --- | --- |
| The size of rooms for example One Bhk, Two BHK or so on. | The fuel charges applicable |
| The type of goods being transported Normal or fragile | GST Rates applicable |
| Manpower cost and mobility of the labor | The number of toll-tax appearing in the way if you are moving interstate |
| Type of Delivery you are expecting normal, fast, or super fast | Additional Services required if any such as unpacking facilities |
| Vehicle type private or shared | Distance of Shifting |
| Packing facilities needed normal or special | The type of Company you are choosing to acquire services for example if you are choosing a brand name you will have to pay more. |
| The cost and type of insurance such as transit insurance or all-inclusive insurance | Storage services if needed |
| Location of your home, for example, ground floor or first floor and so on | If you are considering to tip your moving professionals. |
Packers and Movers Charges Within the City for Local Shifting:
| | |
| --- | --- |
| The Type of BHK | Approximate Packers & Movers Charges |
| One BHK | 3000-8500 INR approx |
| Two BHK | 4000-12500 INR approx |
| Three BHK | 5500-17000 INR approx |
| Four BHK | 8000-23000 INR Approx |
Note: These values are subjected to change as per the variation in the distance and other factors.
Packers and Movers Charges for Domestic Shifting:
| | |
| --- | --- |
| The Type of BHK | Approximate Packers & Movers Charges |
| One BHK | 5000-16000 INR approx |
| Two BHK | 5500-22000 INR approx |
| Three BHK | 8000-27000 INR approx |
| Four BHK | 12000-35000 INR approx |
The Bottom Lines:
So, with these tips, you are perfectly ready to plan your relocation from Kolkata to any other city or state. If you want to ponder over more information you can also check out: how to deal with pre and post-relocation expenses when moving out Kolkata? We wish you all the best for your future moving endeavors.