Pick the Top Warehouse & Storage Services in Navi Mumbai with LogisticMart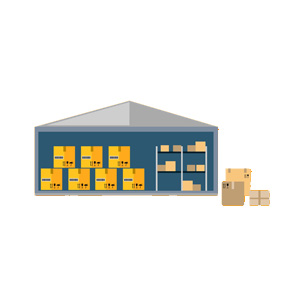 Shifting our sweet home from one location to the other is quite a terrible task for us. At the time of moving forward to a new location, we face unprecedented troubles, and finding their solutions is extremely necessary for us at the time of moving. Navi Mumbai is also a leading place where diverse folks get many business and job opportunities to uplift their standard of living. Therefore, the demand for Packers and Movers in Navi Mumbai keeps on rocking throughout the year.
Organizing our moving journey perfectly requires support from other verticals related to packing and moving. For example, people many times want to pick the support of the Top Warehouse Companies in Navi Mumbai to store their goods for some time and move to a new location. Many newbies who opt for the services of relocation are not aware of what value warehouse services in Mumbai play in turning their home shifting event successful. Warehouse facilities are meant to store the customer's goods at a specific location.
What is Warehouse or Temporary Self Storage Services?
Warehouse or temporary self-storage facilities are designated places to store your goods when you are moving to a new location. We can exercise different storage facilities, such as climate-controlled facilities, and non-climate-controlled warehouse facilities.
How We Can Connect with the Top and Verified Warehouse Companies in Navi Mumbai?
We must stay active to connect with the top and verified relocation organizations that can help us store our goods efficiently. We have diverse sources to connect with the top warehouse and storage solutions. We can refer to our friends, family, and neighbor who can give us valuable inputs to connect with the esteemed warehouse service providers. We can also browse the internet for the top-five suggestions regarding the Top Home Shifting Services in Navi Mumbai.
Seeking the aid of the Top Online Portals to Connect with the Best Storage Services in Navi Mumbai is the best ever alternate for all of us. LogisticMart is one such renowned and legit online portal that is useful for all those who want to store their goods in warehouse and storage services.
How LogisticMart Helps You to Pick the Services of the Top Warehouse Service Providers Near Me?
First, visit the website www.logisticmart.com.
Now, select the tab of warehouse services.
Now, you will be directed to another page where you will have to fill the tabs in which city you want to opt for warehouse services such as Delhi, Gurgaon, or other top cities Mumbai. If you want the services in Navi Mumbai, pick that destination only.
After that, you must select if you want to opt for household storage solutions or business storage solutions.
Once you fill all these requirements, you will fetch four free-of-cost quotations from duly verified and top warehouse and storage service providers.
Through our esteemed platform, you can also check the reviews and ratings of different service providers by visiting our dashboard facility.
Our panel of experts checks the documents for checking the authenticity of our business partners. We check for the Pan Card, Aadhar Card, and Certificate of Incorporation of our service providers.
5 Fruitful benefits of professional Household Storage in Navi Mumbai
1. Make your home look less cluttered & organized
Self-storage services in Navi Mumbai save your home from being overrun with belongings, help you make some breathing space, and enjoy living peacefully in a clean, tidy, and organized home.
2. Security from theft
If you travel a lot because of work or other reasons, or if you are not confident in the security of your home or the area you live in, consider storing your household goods safely away in a storage unit to put those worries at bay. You can get household goods storage in Navi Mumbai with extensive security features through us. These units are safe with individualized gated access. Professionals keep an eye on them with video monitoring.
3. A base for your business
Storage units are not only designed for storing personal household goods but also help you get your business off the ground. Whether you want to store your stock, raw materials, or goods, it can be the ideal solution for all your business needs. You can find the best storage services in Navi Mumbai through us at affordable prices.
4. Make your transition stress-free
Since relocation has become a common phenomenon nowadays, the need for safe storage for precious belongings is obvious. So, if you want to move to a new house or place and can't take your entire belongings from one place to another in one go, consider calling household storage companies in Navi Mumbai listed on our platform. A safe unit could be the reliable and ideal middleman between shifting into your new home. You can store your household goods in it gradually over time. It will help you manage the process efficiently.
5. Cost-effective solution
Renting a storage unit is an affordable as well as a safer option than renting a room or flat to store goods. To get the best household storage services in Thane, fill out the form available on our portal with your requirements and contact details.
How to Contact LogisticMart to Pick the Top Household Storage Services in Navi Mumbai?
You can dial our toll-free number at 1800-102-9655 or else you can shoot an email to us at [email protected].