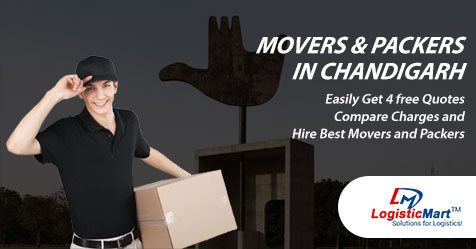 Hire Best Packers and Movers in Chandigarh through LogisticMart
Chandigarh is a quintessential city that provides professional opportunities and excellent lifestyle. Being the 2nd cleanest city in our country, Chandigarh is silently becoming a small hub for the customer to move to this city for professional and personal reasons. Moving to a completely new place is never easy for anyone. However, LogisticMart aims to make the entire relocation experience a cakewalk by finding you the best packers and movers rates in Chandigarh.
A slight mistake in shifting valuables can cause both financial and emotional damage. We as a company, understand the emotional connection a customer may have with their belongings and accordingly help you hire movers and packers that promise zero damage to goods during the moving process. To get a hassle-free shifting solution a customer would need professional packers and movers in Chandigarh. LogisticMart plays a vital role in helping you find a moving company that suits your relocation needs. Finding the best movers in Chandigarh becomes imperative as one needs to be extra careful with items.
How LogisticMart Helps You Find Competent Packers and Movers
We provide 4 best quotes from different shifting service providers in the city. These selected shifting companies offer packers and movers rates in Chandigarh, Panchkula, Mohali and nearby areas. LogisticMart provides a platform to customers that put them in direct contact with trusted carries companies and further the customer can choose as per what suits them the best. We promise to bring affordable packers and movers cost. Browse through for all reputable names in the top shifting companies and avail the best services in no time. Packers and movers cost estimate varies from a distance to distance.
Approx. Movers & Packers Charges in Chandigarh
| | | | |
| --- | --- | --- | --- |
| Type of Relocation | 0Km-10Km | 10Km-30km | 30Km-50Km |
| 1BHk Shifting goods | 4000-7000 | 6000-10000 | 8000-14500 |
| 2BHk Shifting goods | 5000-9500 | 6000-10000 | 7000-16000 |
| 3BHk Shifting goods | 6000-11000 | 7500-13000 | 9000-17000 |
| 4BHk Shifting goods | 7500-12000 | 10000-14000 | 12500-20000 |
How We help You to Select the Best Packers and Movers in Chandigarh?
You can easily visit our website and provide us detailed information about the type of relocation service you require and the number items that need to be moved. We off an array of moving solutions such as furniture shifting, moving plants, shifting commercial goods and machinery, home shifting services, etc. We are not just confined to moving between Chandigarh but also provide assistance to areas with the best house shifting services Gurgaon, Delhi, Lucknow, Faridabad, etc. Just fill in our simple form on our website, citing your requirements and we will give you details of professional goods shifting services providers in Chandigarh. You can then compare and choose at ease.
Why Should You Rely On Us For Hiring Movers and Packers in Chandigarh?
Here are some of the reasons to rely on our services:-
Free quotes
The reliable customer support team
Licensed packers and movers who are pre-verified
Flexible moving solutions
Quality assurance
Takes complete accountability for goods reaching its destination
How LogisticMart Makes Your Shifting Service Experience A Pleasant One
We find top packers and movers in Chandigarh that suit your specific needs. We are certainly one of the best platforms that help you make your relocation experience smooth and quick. Our company is dedicated to offering you leading and specialized shifting companies that are considered as the top packers and movers in Chandigarh. The goods carrier experts in the city offer best in class services according to your moving needs.
Whether it's about finding a list of Movers and Packers in Faridabad, Chandigarh, Delhi, Ghaziabad, Bangalore, Chennai or any other place, LogisticMart will help you find and hire reliable shifting companies in your city.
Why Hire Through Us?
We are not just confined to moving only between Chandigarh but also provide assistance to areas with the best house shifting services Gurgaon, Delhi, Lucknow, Faridabad, etc. Being a logistics aggregator for more than a decade, LogisticMart has established itself as a trusted company which is serving customers around the entire nation.
Top Areas where is Packers and Movers Service in Chandigarh.
Some of the most demanded areas in Chandigarh are Sector 17A, Sector 30, Sector 20-B, Sector 49. Apart from these areas, LogisticMart provides the best movers who service in other areas such as:-
Sector 26, Manimajra, Zirakpur, Mohali, Chandigadh, Industrial Area Phase I, Industrial Area Phase II, Daria, Sector 17, Mani Mazar, Ram Darbar, Sector 11, Sector 8C, Tribune Road, Dakshin Marg, Main Bazar, Sector 19C, Sector 21C, Sector 38, Sector 8 B, Badheri Highway, Zirakpur, Sector 9, Sector 22, Sector 40, Sector 45, sector 38D, Sector 46-B, Sector 5, Sector 42, Hallo Majra, Sector 12, Sector 16, Sector 18, Sector 19, Sector 52, Sector 22C, Sector 34, New Secretariat, Kundi, Dera Bassi, Kishangarh, Circular Road, S.A.S. Nagar, Sector 32C, Sector 22B, etc.