The Packers and Movers in Bhosari know every trick of the trade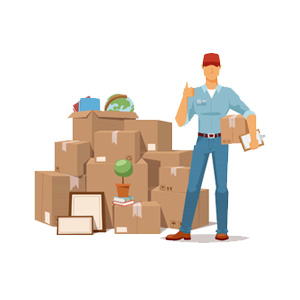 Bhosari or Bhojpur is a suburban area of northern Pune. It not only has good residential areas but has well-established industrial organizations too. Packers and Movers in Bhosari are required by individuals and businesses when they want to move goods from point A to B. There are a number of them in Bhosari competing with each other to get the business from prospective customers. Their business depends on the quality of the services of their staff, hence they make every effort to train them with the latest practices in the industry and motivate them towards reaching their goals.
Who all comprise the staff of packers and movers?
These service providers have staff divided into different categories according to the roles they have to play. Packers and Movers in Pune have a staff consisting of packers, laborers, drivers, and customer executives.
The packers will pack anything with their latest packing material and equipment. They come with cardboard boxes, bubble wraps, air wraps, foam pieces, cellophane sheets which are used depending on the size of your items. They are packed in such a way that they don't move at all while loading or while on route so that no harm comes to them.
The laborers load and unload goods with extreme care and under the supervision
The supervisors know how to place the boxes safely, inside the truck or container, so as to minimize any wear or tear.
The drivers are always experienced as new drivers may face issues with routes and guidelines. They are well trained and have been hired because they are capable of making such deliveries.
Here is an Approx. Estimate of Local Shifting Services in Bhosari Pune
| | | | |
| --- | --- | --- | --- |
| Type of Relocation | 0 Km-10Km | 10 Km-30km | 30 Km-50Km |
| 1BHk Shifting goods | 4000-8000 | 5000-10000 | 8000-14000 |
| 2BHk Shifting goods | 5500-10000 | 6500-11000 | 8500-18000 |
| 3BHk Shifting goods | 7000-11000 | 9000-13000 | 13000-20000 |
| 4BHk Shifting goods | 9000-12000 | 11000-16000 | 15500-23000 |
What are you paying the packers and movers for?
These service providers will help you with office shifting and Home Shifting in Pune Home shifting is what most individuals hire these services for. Most of the time these persons are advised on how to keep the goods ready for the packers so that packing can be done quickly.
The charges of these service providers depend upon the number and size of your goods.
The other important costing factor is the distance over which it is to be delivered.
If the distance is too large you have the options of moving your goods separately or your goods can share space with goods belonging to someone else.
What are the other services provided by packers and movers?
Pimpri Chinchwad is a heavily populated area in north-western Pune. It houses a number of major automobile manufacturers and other heavy industries. Packers and Movers in Pimpri Chinchwad assist with vehicle shifting apart from regular moving services. They provide warehousing solutions to those in need of storage services. They can assist you with transit insurance in case you want to ensure the delivery of your goods. These big businesses and the residents of the area provide good opportunities for packing and moving businesses here.
Best Packers and Movers in Bhosari Pune Charges Cost - Local and Domestic Household Shifting
The following table will reveal the estimated prices of the movers and packers in Bhosari in terms of domestic and local relocation:
For Local Relocation from Bhosari Pune

Transportation cost

Rs 1,000 to Rs 4,000

Packing, loading & unloading

Rs 2,000 to Rs 6,000

For Domestic Relocation from Bhosari Pune

Up to 400 km

Rs 4,000 to Rs 30,000

400 – 800 km

Rs 6,000 to Rs 40,000

800 – 1300 km

Rs 7,000 to Rs 45,000

1300 – 1900 km

Rs 8,500 to Rs 50,000
What sized items will the packers and movers assist with?
There are times when you purchase something which is too big to be carried by your vehicle. Then you will need these service providers like for furniture shifting in Pune Anyone who has purchased new furniture will always need these services.
How do business opportunities for the packers and movers come with development?
Nigdi in Pune is one of the better areas in the city to live in. Nigdi has an excellent infrastructure for transportation. It is well connected to the state of Maharashtra through railways, the Pune airport is close by and the roads are as good as anywhere in the country. Packers and Movers in Nigdi have used these opportunities to set up bases here.
If you are looking for the categories of packers and movers listed above you are at the right webpage. LogisticMart is an online solution that will speed up the search process by giving you the quotes quickly. You can compare the services and costs of the various service providers. If you have any queries or are interested in our services you may call us at 1800-102-9655.