Holistic and Advanced Commercial Warehouse Storage Services in India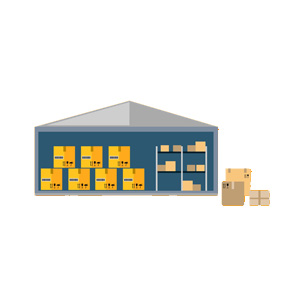 The commercial warehouse space is a landscape that offers a whopping storage space used for storing commercial utility items like heavy-duty machinery, office cubicles, automobiles, raw products, and much more. LogisticMart is a comprehensive platform providing customers with a wide range of commercial warehouse storage services in India. The platform provides quick access to a league of business warehouse storage services that functions within the realm of commercial storage. The service providers on LogisticMart offer standardized commercial storage and distribution services, and cutting-edge storing solutions besides end-to-end logistics.
At LogisticMart, we are the best at sourcing the most appropriate and professionally managed commercial distribution warehouse that will help in boosting the profitability of your business. The service providers in our repository also add safety elements to the commercial products and the peace of mind that comes with it, is just enormous. Moreover, finding the right kind of warehousing service has become easy and less time-consuming with LogisiticMart's state-of-the-art tools. Only a single click will open up the doorway for customers to hundreds of commercial warehousing and storage services in India. There are discounts and a whole list of options available within business warehouse storage for product safety. Since the selection of service providers occurs in real-time, customers can quickly search through, discuss and finally make an informed decision over a short timeframe.
Compelling Business Warehouse Storage Solutions with Customization
At LogisticMart, we have a strong inventory of commercial warehouse storage services in India that have expertise in storing specific items like Raw Materials, Finished Goods, Hazardous Materials, Liquid Materials, and Grains. We have a potpourri of commercial storage warehouse companies offering customized warehousing solutions to match the specific storage requirements of the customers across the product line.
Precision Storage and Warehousing for Better Spacing
The importance of commercial distribution warehouses has to be balanced out with respect to the amount of space available for holding the products. The warehouse service providers on LogisitcMart have incorporated an innovative cubic-foot storage model that aligns perfectly with the concept of precise warehousing and storage. The service providers also have incorporated tools necessary for utilizing forecasting and inventory management methodologies for improving the costs spent on storage. With LogisitcMart, you are 100% confident that the commodities will be safe and free from breakage. You also enjoy high retention of your products.
Cross Docking Solutions
LogisticMart has service providers in warehousing that exclusively deal in Cross Docking, which gives the advantage to businesses of all natures to minimize the time involved in filling the backorders straight from the receiving docks.
Get Free Quotes on Commercial Warehouse Storage Services
With LogisiticMart, we give the advantage the customers to gain quick access to reliable and authentic commercial warehouse storage services in India, You have the advantage of searching from the best warehouse companies at your comfort. In addition, you have the convenience of accessing very specific business warehouse storage services that provide customized warehouse solutions according to your needs.