Hire the Best Home Shifting Services in South Delhi via LogisticMart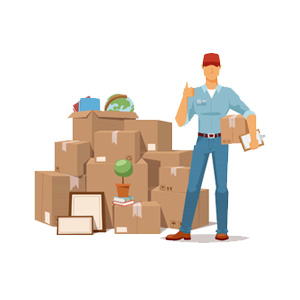 In the present era, every person wants to exploit the best possible opportunities to grow their earning opportunities and boost their standard of living. Relocation is viewed as one of the best means to fulfill their requirements and achieve their ambitions. The topmost metropolitan cities in India can be cited as the top-notch preferences for varied people who want to achieve their ambitions. Therefore, the name of the capital city of India Delhi is on the hit-list of varied people who want to achieve their ambitions. We can see a surge in the demand for hiring professional moving services in different sub-areas of Delhi. So, you can see a high growth rate in hiring the Best Packers and Movers in South Delhi as many people want to hire professional relocation services to get settled in posh locations like South Delhi.
What are the Diverse Options to Opt for Home Shifting Services in Delhi?
All of us have many options for choosing home shifting services in Delhi. Therefore, at the time of acquiring the best home shifting services in South Delhi, you can avail of the following options to cater to your needs.
Scour the Internet: If we want to pick the best movers and packers in Delhi, scouting the internet wisely can be the best way for accomplishing our relocation goals. So, choose at least three to four best relocation professionals and jot down their contact numbers so that you can easily assess their prices and services.
Ask for References: At the time of shifting your home, you must ask for references from your friends, family members, and colleagues, neighbors, etc. It will help you pick the best moving professionals and choose the one that aptly suits your requirement.
Hunt the Top Online Portals: If we want to connect with the best professionals at an affordable cost the top online portals like LogisticMart can serve you the best by connecting you with the best and verified service providers. These tips will help you select the Best Home Shifting Services in South Delhi.
Here is an Approx. Estimate of Local Shifting Services in South Delhi
| | | | |
| --- | --- | --- | --- |
| Type of Relocation | 0 Km-10Km | 10 Km-30km | 30 Km-50Km |
| 1BHk Shifting goods | 4000-8000 | 5000-10000 | 8000-14000 |
| 2BHk Shifting goods | 5500-10000 | 6500-11000 | 8500-18000 |
| 3BHk Shifting goods | 7000-11000 | 9000-13000 | 13000-20000 |
| 4BHk Shifting goods | 9000-12000 | 11000-16000 | 15500-23000 |
Advantages of Hiring Packers and Movers in South Delhi
Most people generally have a misconception when it comes to selecting packers and movers in South Delhi for the purpose of relocation. They believe that the moving service providers charge a considerable amount of money, do not deliver the goods in a timely manner or damage the goods during shifting. However, when a reputed South Delhi Relocation Company is hired, then you can be assured of the professional staff behavior, usage of quality packing materials, modern tools and technologies, transparent quotes and charges, quick delivery, etc. All these things certainly offer you a seamless moving experience. If you are still apprehensive about hiring relocation service providers, then the following advantages will help you to simplify the challenging task of moving seamlessly:
Plan the Entire Relocation Process Well
If you are a working professional or shifting for the first time, then there is hardly any time left to make a shifting plan. Hiring the best and reliable packers and movers in South Delhi will certainly go a long way in minimizing the stress connected with the task of relocation. The moving requirements of the customers are noted in great detail and based on that a comprehensive shifting plan is formulated. Each and every detail such as using high-quality packing materials, efficient workforce, well-maintained transportation trucks, proper loading and unloading of the goods, etc are taken care of efficiently that in turn makes shifting a hassle-free experience.
Saves Time and Energy
It is without any doubt one of the prominent advantages of hiring packers movers in South Delhi. Moving household or office goods is definitely a time-consuming and tiring process. If you plan to shift the goods by yourself, then the issues you have to experience may give you sleepless nights. Hiring a reliable house shifting company in South Delhi not only helps you save a lot of time and energy but also relieves the stress related to the relocation.
Goods are in the Secured Hands
The packers and movers service providers in the South Delhi region have the necessary experience and capabilities to move the goods securely to your destination. They have the relevant experience, irrespective of the size or weight, to pack the items nicely and load them carefully into the transportation trucks. Hence, without any second thoughts, you count upon the efficient services of the shifting companies and hand over the goods to them for secure relocation.
Availability of the Best Warehouse Facility
This is indeed one of the best advantages that most of the reputed packers and movers in South Delhi offer to the customers. The availability of the spacious and clean warehouse facility allows the customers to store their goods for the desired time period until they are successful in finding a proper place to keep them safe. Many service providers charge extra to provide warehouse facilities. 
How LogisticMart Help you pick the Best Home Shifting Service Providers in South Delhi?
First, insert your requirements on our website stating your name, contact number, and the type of services required, if any.
After that, once you enter the details, you will get a call from our customer support department who will ask for the required details from you.
Once you complete this process, you will get a call from at least three to four service providers who will offer free-of-cost quotations from you.
We also provide a dashboard facility to our customers, where they can compare the reviews and ratings of varied service providers. Because of this facility, it becomes easy for us to pick the best relocation service provider in the town.
We connect our customers with the best and verified relocation service providers as our team checks for the original Pan Card, Aadhar Card, and Certificate of Incorporation of their company.
Top Packers and Movers in South Delhi Charges Cost - Local and Domestic Household Shifting
The following table will reveal the estimated prices of the movers and packers in South Delhi in terms of domestic and local relocation:
For Local Relocation from South Delhi

Transportation cost

Rs 1,000 to Rs 4,000

Packing, loading & unloading

Rs 2,000 to Rs 6,000

For Domestic Relocation from South Delhi

Up to 400 km

Rs 4,000 to Rs 30,000

400 – 800 km

Rs 6,000 to Rs 40,000

800 – 1300 km

Rs 7,000 to Rs 45,000

1300 – 1900 km

Rs 8,500 to Rs 50,000
Logisticmart.com - Your Trusted Partner in Finding and Hiring Packers and Movers in South Delhi
Hence, if you have made up your mind to hire the top South Delhi packers and movers, then it is certainly a wise decision. Logisticmart can prove to be the best companion when it comes to getting connected with the professional relocation service providers in your region instantly. Just by spending a few minutes on the portal, you can go through the reviews and ratings of the listed shifting companies, compare the price quotes and hire them instantly for a pleasant moving experience.  
Who said finding and hiring movers and packers in South Delhi is time-consuming and hectic? Not anymore with Logisticmart.com, whereby making a few clicks, you can hire professional service providers within your preferred budget.
How to Contact LogisticMart to Connect with the Best Home Shifting Services in South Delhi?
You can dial our toll-free Number 1800-102-9655 or you can also shoot an email to us at contact@LogisticMart.com.