Experience the Services of the Best Packers and Movers in East Delhi through LogisticMart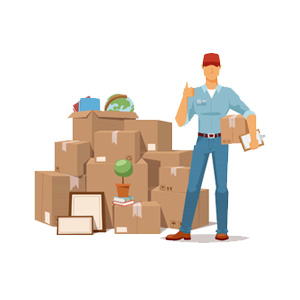 Delhi without any doubt is one of the most awe-inspiring destinations that capture the attention of the visitors by displaying a sophisticated lifestyle and through its spellbound tourism. People across different towns and cities come to Delhi to give a boost to their family income. The mingling of different cultures at this amazing place, the presence of many iconic eateries and leading educational institutions has given a spark to the increasing relocation trends to this city among different people. In varied sub-parts of Delhi like East Delhi, Dwarka, and other such areas people have an inclination to get shifted to these major locations of Delhi. As everyone is short of time, therefore, keeping this in mind, people often seek the assistance of packers and movers in Delhi so that they can enjoy a seamless household shifting experience.
Here is an Approx. Estimate of Local Shifting Services in East Delhi
| | | | |
| --- | --- | --- | --- |
| Type of Relocation | 0Km-10Km | 10Km-30km | 30Km-50Km |
| 1BHk Shifting goods | 4000-8000 | 5000-10000 | 8000-14000 |
| 2BHk Shifting goods | 5500-10000 | 6500-11000 | 8500-18000 |
| 3BHk Shifting goods | 7000-11000 | 9000-13000 | 13000-20000 |
| 4BHk Shifting goods | 9000-12000 | 11000-16000 | 15500-23000 |
Why Should Customers Take Assistance of the Top Packers and Movers in East Delhi?
In the present world of hustle and bustle, every individual is quite short of time. Finding time for extra accountabilities like home shifting becomes quite tough. Therefore, at this crucial time period seeking the help of professional packers and movers in various sub-parts becomes an ultimate necessity. Going along with these lines, many folks look for the help of Packers and Movers in East Delhi when shifting to this particular part of the East Delhi. Many people are of the opinion that they are self-sufficient in executing the accountabilities of relocation. So, they do not understand the necessity of investing their hard-earned money in seeking the services of professional household shifting service providers. These points will corroborate that why taking the assistance of professional relocation players is necessary and how will it benefit to varied moving aspirants.
Hiring professionals will Save Your Time and Money: If you choose to acquire professional assistance at the time of home shifting, it will lead to saving your precious time and money both. As professionals are well-acquainted with the complications involved in home shifting, hiring them saves their money and time as they bring versatile home shifting solutions various people.
Packers and Movers Provide Insurance Facilities: At the time of shifting the most important concern of an individual is to keep their goods safe and secure. When we seek the aid of the best packers and movers in Delhi they provide us insurance facilities to keep the goods safe and secure at the time of the transit.
Speed up the Entire Process of Shifting: As professionals are quite adroit in their work, they finish the entire process of household shifting quite fast. This all results in speeding up the entire process of relocation.
How Online Portals Help You to Get Connected with the Best Packers and Movers in Delhi?
Are you willing to take the help of genuine home shifting services in Delhi? Well, in this age when there are so many spurious moving service providers are present in the market, finding genuine and authentic packers and movers is quite a troubling concern. The role of Online Portals has become vital in regard of connecting you with the best movers and packers in various sub-areas of Delhi. Renowned online portals like LogisticMart have become the foremost choice of the customers when it comes to connecting with the topmost household shifting player of Delhi. Let's see how LogisticMart helps you to avail of the connections of the best service providers.
Best Packers and Movers in East Delhi Charges Cost - Local and Domestic Household Shifting
The following table will reveal the estimated prices of the movers and packers in East Delhi in terms of domestic and local relocation:
    For Local Relocation

    from  East Delhi

Transportation cost

Rs 1,000 to Rs 4,000

Packing, loading & unloading

Rs 2,000 to Rs 6,000

    For Domestic Relocation 

    from  East Delhi

Up to 400 km

Rs 4,000 to Rs 30,000

400 – 800 km

Rs 6,000 to Rs 40,000

800 – 1300 km

Rs 7,000 to Rs 45,000

1300 – 1900 km

Rs 8,500 to Rs 50,000
How LogisticMart Help the customers to avail of connections with the Best Packers and Movers in Delhi?
Pre-Verified Service Providers:  You can get connected with the best household shifting service providers through LogisticMart easily as our professionals help you to connect with the top and pre-verified household shifting service providers. For this purpose we check original KYC documents such as Pan Card, Aadhar Card, and Certificate of Registration of our customers.
Offers You Free of Cost Quotations: With us, you can get quotations from at least four packers and movers in Delhi. Just fill in a short form mentioning your name, contact number, and the type of services needed, our customer support staff will help you get connected with the best service providers ever.
Dashboard Facility: We offer a dashboard facility also where customers can visit and compare the reviews and ratings of various Packers and Movers. It leaves ample choice in front of them to choose the best packers and movers in Laxmi Nagar East Delhi near your area.
How Moving Aspirants Can Get in touch with the LogisticMart to avail of the Aid of Packers and Movers?
It is very easy to connect with our platform. Just dial our toll-free number 1800-102-9655. Apart from this, you can connect with our prestigious platform by shooting an email to us at contact@logisticmart.com.