Appoint Budget-friendly Moving Company Easily For Fast and Safe Home Shifting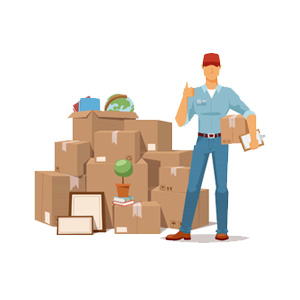 Moving to a new location like Okhla or another bag and baggage can be complicated, just by the dream of packing household goods and loading those sounds complex. In the modern day's professional lifestyle everything has got changed, there is an acute shortage of time for searching out the most gratifying solutions for reliable Packers and Movers in Okhla.  In such an entangled situation, LogisticMart introduces you to the most deserving solution for any kind of requirement pertaining to Home Shifting in Okhla.
Our truly certified, promising, and skilled moving companies offer both local and domestic and intact warehouse Services in Okhla and promise quality-oriented and thrifty solutions. Our enrolled Local Packers and Movers ask for fair charges that assists numbers of customers accurately while choosing out the most justifying one.
Here is an Approx. Estimate of Local Shifting Services in Okhla
| | | | |
| --- | --- | --- | --- |
| Type of Relocation | 0Km-10Km | 10Km-30km | 30Km-50Km |
| 1BHk Shifting goods | 4000-8000 | 5000-10000 | 8000-14000 |
| 2BHk Shifting goods | 5500-10000 | 6500-11000 | 8500-18000 |
| 3BHk Shifting goods | 7000-11000 | 9000-13000 | 13000-20000 |
| 4BHk Shifting goods | 9000-12000 | 11000-16000 | 15500-23000 |
Hire a Renowned Home Shifting Company Quickly and Easily Through LogisticMart
LogisticMart is a cloud-based company, so to get instant support for Local Areas for House Shifting in Okhla you need just to call on our toll-free customer support number 1800-102-9655 and our prompt team of experts will respond to you without any late. Our grand expertise will deliver you multiple quotations for free of cost from different suitable Packers and Movers. All enrolled shifting partners on our database are thoroughly pre-verified who bring out complete assistance in multiple segments of logistics like, commercial moving, Home Shifting, truck rental not only in Okhla but PAN India.
Best Packers and Movers Charges in Okhla - Local and Domestic Household Shifting
The following table will reveal the estimated prices of the movers and packers in Okhla in terms of domestic and local relocation:
For Local Relocation from Okhla Delhi

Transportation cost

Rs 1,000 to Rs 4,000

Packing, loading & unloading

Rs 2,000 to Rs 6,000

For Domestic Relocation from Okhla Delhi

Up to 400 km

Rs 4,000 to Rs 30,000

400 – 800 km

Rs 6,000 to Rs 40,000

800 – 1300 km

Rs 7,000 to Rs 45,000

1300 – 1900 km

Rs 8,500 to Rs 50,000
Remarkable Differences Between LogisticMart and its Competitors
In the current perspective, LogisticMart is a brand that has more than 6000 verified and certified logistics service providers on its database who are not just restricted to assuring services like Home Shifting and Cargo Services as a reputed Packers and Movers in Delhi, but you can seek for the most suitable and affordable Home Shifting in Delhi and similar solutions for any part of the nation. We bring the most suitable and affordable house shifting solutions for everyone who cannot find enough time to hire a credible and efficient logistics company.
For every individual request, our team calls back immediately to the customer just to fulfill his / her personalized needs for hiring Packers and Movers in Okhla through LogisticMart Online Portal. We, as an answerable and easy to access online portal, have nicely accommodated more than 6500 service requests happily and successfully. LogisticMart is a top leading, popular, and certified brand for all types of relocation exigencies and for booking the most justifying Packers and Movers in Okhla within minutes.
Specialized Features and Benefits Of LogisticMart
You can access Its online services anytime – anywhere
It saves both your time and money up to 30% and without any physical harassment
You can compare multiple price-quotations of different Local Packers and Movers easily
It ensures you hire only verified, certified, and skilled moving companies.