Connect with verified packers and movers in Saraswati Vihar through LogisticMart & enjoy happy shifting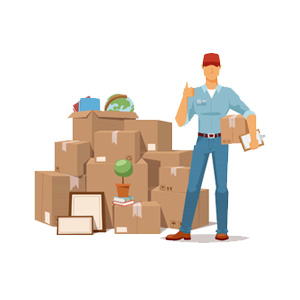 Do you have to relocate from Saraswati Vihar to somewhere else soon? Does the thought of relocation cause butterflies in your stomach? Indeed, relocation brings a significant change in one's life. Change makes people anxious, but it's the only constant and so you should embrace and adapt to it. Also, you don't need to worry at all as you are not alone. We at LogisticMart, help you through the entire process by connecting you with certified packers and movers in Saraswati Vihar. We are a top-rated platform with 10+ years of industry experience, 1500+ daily happy customers, and 7000+ service providers. You can bank upon us for all your logistics needs.
5 important things to ask when hiring packers and movers in Saraswati Vihar 
Are you registered and licensed?
Cross off the unregistered firms from your list.
Do you provide Insurance?
Strike off the mover failed to secure your move.
How many years of Experience do You have in the Moving Industry?
Choose a well-established firm over newbies. The more experience they have in the industry, the smoother your move will be.
Can You provide Some References for Your Service?
You should give priority to a mover that provides you with references happily, as a well-regarded moving company has several references lined up.
Can You provide Everything in Writing?
You should work with a moving firm that is willing to provide you with everything in writing. An ideal moving company that documents its every promise in writing, whether it's terms and conditions, payment policy, delivery timeline, etc.
3 reasons to hire packers and movers in Saraswati Vihar through us - 
Instant solution - When you start looking for a relocation partner, you usually search online or ask your close friends or acquaintances for references. Either way, you end up with a list you haven't heard of before. All of them will claim to provide you best services, but how can you be sure about which one to trust? With us, you can find the best packers and movers under one roof.
Trusted and verified movers - With us, you can connect with trusted and verified Packers and Movers in Gurgaon at no extra cost. With us, you will obtain free quotes from the best four packers and movers with unbiased reviews. You can compare those quotes instantly and make a wise choice.
24/7 customer care - We understand the importance of around-the-clock assistance. Our dedicated customer care executives are always available to assist you. So we not only help you hire a moving company for Home Shifting in Gurgaon or any other region but also make your experience hassle-free.
3 Simple Steps to Connecting with Packers and Movers in Saraswati Vihar Through Us - 
Step -1 - Fill in the form available on our website with your requirements and details. 
Step - 2 - You will receive free quotes from top service providers right after that. 
Step -3 - You can compare those quotes, check the reviews through our dashboard feature, and take a final call.
Reliable Packers and Movers in Saraswati Vihar Charges Cost - Local and Domestic Household Shifting
The following table will reveal the estimated prices of the movers and packers in Saraswati Vihar in terms of domestic and local relocation:
For Local Relocation from Saraswati Vihar Gurgaon

Transportation cost

Rs 1,000 to Rs 4,000

Packing, loading & unloading

Rs 2,000 to Rs 6,000

For Domestic Relocation from Saraswati Vihar Gurgaon

Up to 400 km

Rs 4,000 to Rs 30,000

400 – 800 km

Rs 6,000 to Rs 40,000

800 – 1300 km

Rs 7,000 to Rs 45,000

1300 – 1900 km

Rs 8,500 to Rs 50,000
Other Services You can Obtain Through Us - 
Car transportation services 
Truck and tempo services 
Cargo services 
Transport services 
Warehouse services
Happy to help! Feel free to reach out to us in case of any queries on our toll-free number 1800-102-9655.